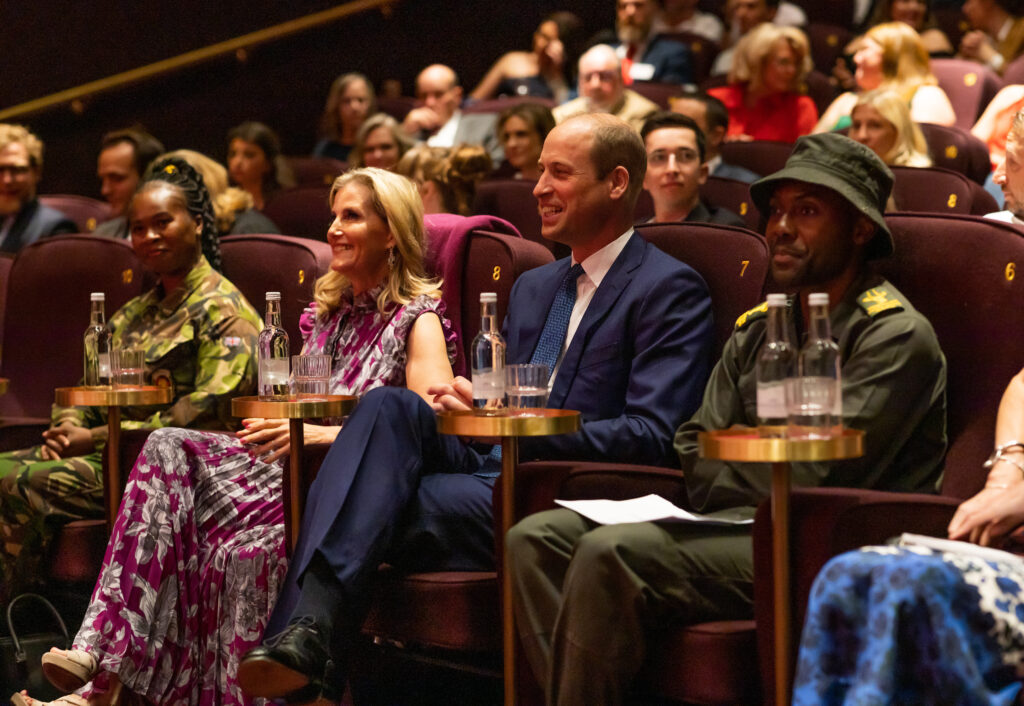 Our clients often come to us needing help with a specific item, and soon we are assisting them with other matters. However, our work has never had us rub elbows with members of the British royal family working to help save rhinos in South Africa – until recently.
Global Conservation Corps (GCC) is a 501(c)3 nonprofit dedicated to conserving wildlife through education and bridging the gap between low-income communities and conservation. GCC works in areas with growing youth populations and vulnerable wildlife populations to create a path toward sustainable economies. While it is based in South Africa, its U.S. headquarters is in McDonough, Ga.
GCC gives students real-world experiences with wildlife through its Future Rangers Program and conservation app to create a lasting love and connection for their natural world. It also works with local leaders and stakeholders to develop sustainable industries, job opportunities, and economic growth that benefit the community and reduce the need to turn to poaching or other methods for financial stability.
GCC became a PBPA client in Fall 2020 when they asked for help drafting a distribution deal for a documentary about efforts to protect rhinos in South Africa. That work morphed into 15 legal matters. PBPA also conducted a Legal Check Up for GCC which led to 26 additional matters, including five involved in creating and rolling out the app.
"There are countless matters that have been professionally managed and resolved by the PBPA team," said Justin Walker, GCC Chief Operating Officer – Treasurer. "Standing out the most is the incredible work on our RHINO MAN documentary. The complexity on an international scale has proven the true experience, knowledge, and capability the PBPA team brings to the table. PBPA's guidance and counsel has led GCC to secure audiences, support, and participation in the film in ways we never thought possible – even private screenings and overall project support from His Royal Highness The Prince of Wales of the United Kingdom."
Rubbing Elbows with British Royalty
The documentary legal work is what led GCC to invite Robyn Miller, Senior Tax/Corporate Counsel for PBPA, and PBPA board member and volunteer attorney Rick McMurtry, Senior Vice President, Warner Brothers Discovery, to attend an exclusive private screening of RHINO MAN in London in mid-June. The Prince of Wales and The Duchess of Edinburgh attended the premiere.
There are just 27,000 rhinos in the world today, mostly in South Africa. Poachers want their horns which can sell for up to $200,000 on the black market. A lack of work opportunities in parts of South Africa has created conditions that enable crime syndicates to coerce desperate people into poaching rhinos for profit. At the current poaching rate, rhinos in the wild could become extinct in the next two decades. RHINO MAN is a feature-length documentary about ranger Anton Mzimba and courageous field rangers who risk their lives every day to protect rhinos from being poached to extinction.
Anton was a friend, mentor, and technical advisor to GCC and believed the way forward in conservation was to focus on youth. GCC has embraced his guidance, expertise, and fervor, now reaching 40,000+ students through its Future Rangers program. Anton's vision was to take the story of rangers' efforts to others, but he was murdered outside his home in front of his family in July 2022.
GCC wants to have RHINO MAN shown at film festivals this year to obtain an extensive distribution deal for the movie, increase awareness of the powerful story, and share more widely how people can aid wildlife conservation. When that happens, PBPA will help with distribution and licensing matters.
Rolling in the Credits
The movie's credits include PBPA's Miller and McMurtry. Miller structured a tax subsidiary and joint venture for GCC to allow it to have investors for the documentary. McMurtry created all the intellectual property-related legal agreements for it. The credits also list PBPA volunteer attorney Stephen Opler, Partner at Bradley Arant Boult Cummings, who created the GCC tax subsidiary and joint venture.
Miller has worked for PBPA for 15 years helping nonprofits with tax-exempt issues. "It was amazing to attend the premiere and see tangible results of work we have done. It was fascinating to hear stories about protecting rhinos and the work by rangers throughout Africa and the world and see how the movie can shine a light on conservation efforts."
---
She shared this about McMurtry's help with GCC. "Rick's Intellectual Property expertise has been incredibly valuable to GCC since the beginning. For this documentary, he jumped right in to help with the copyright issues and contracts, even as more complex issues have arisen around creating and distributing it. He has continuously and generously given his time and talents to help make it a huge success."
McMurtry has volunteered with PBPA since 2006, advising clients on trademark and copyright registration and infringement issues. "I am very proud of the work I was able to do for GCC as it helps educate others about these issues and highlight these ranger heroes. It was exciting to receive an invitation from the Prince and Princess of Wales and attend the premiere with Prince William. But, more than the film itself, I was surprised and delighted to hear from some of the rangers about their experiences, as well as the photographers and artists whose work is featured in the film and promotional materials. As lawyers, we don't always get to see how our work impacts the final product, much less the potential impact that work will have on the lives of those featured in RHINO MAN and their fellow rangers."
He loves getting to know PBPA clients. "I've had the opportunity to work on pro bono matters that have expanded my professional experience, given me an opportunity to work with new colleagues (and in turn give them new and challenging issues), and helped me build relationships across the Atlanta legal community. As an in-house lawyer for a company not based in Atlanta, I have benefited greatly from working with PBPA and serving on the Board to learn more about our community and build those relationships. At the end of the day, doing pro bono work is just the right thing to do, and I'm grateful to PBPA for all they do to facilitate it."