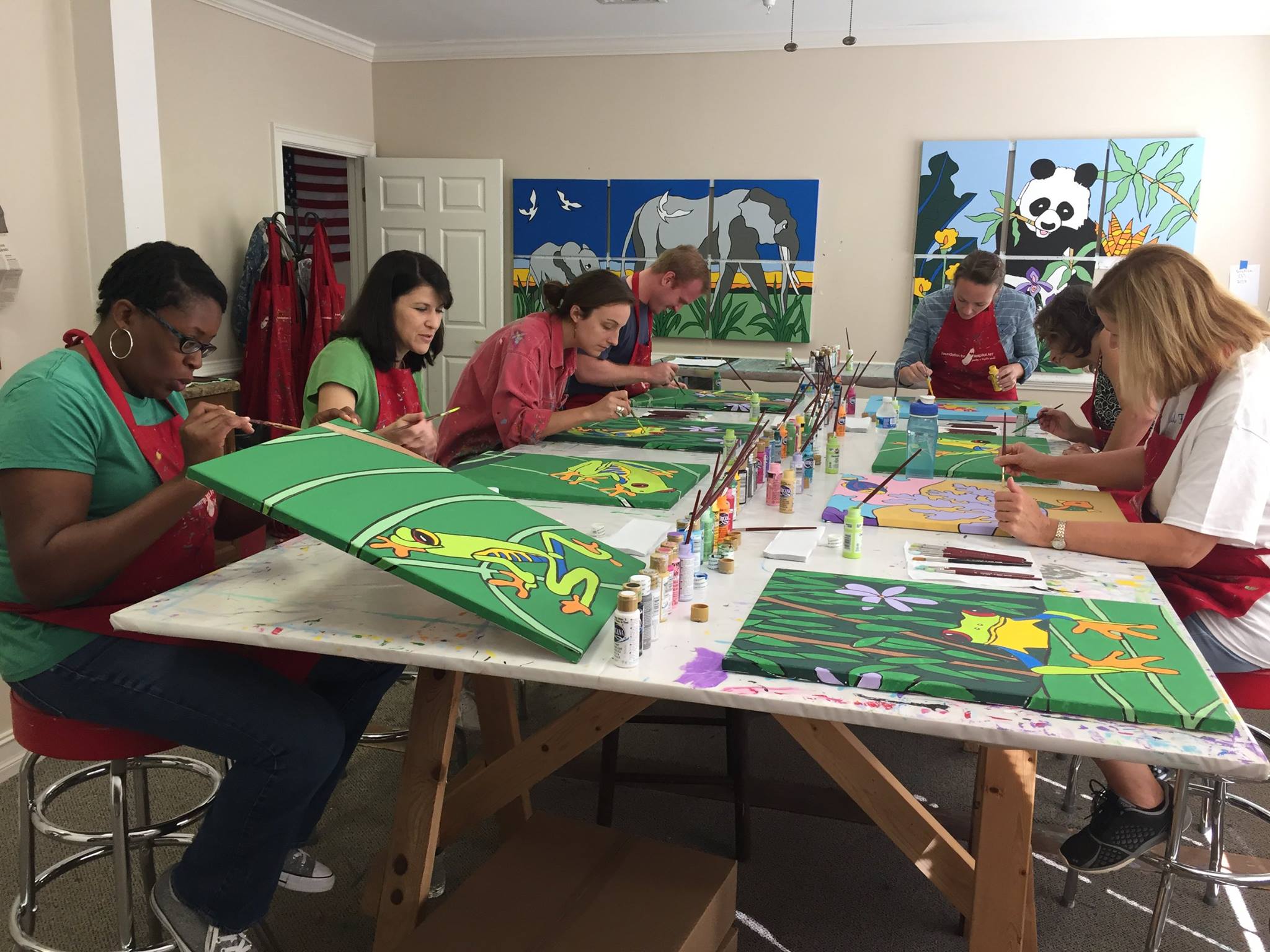 PBPA staff volunteer day at the Foundation for Hospital Art
Foundation for Hospital Art began with Paris and a childhood memory. While in Paris showcasing his art, John Feight recalled how his grandfather—a doctor in rural Ohio—was motivated by a desire to care for people regardless of their ability to pay for services. When John returned to Georgia, he began volunteering at Northside Hospital. He was discouraged by the blank walls of the hospital and the effect they had on the children who were already suffering so much.
In 1984, John founded the Foundation for Hospital Art, which strives to give comfort and hope to those who suffer in hospitals by providing artwork at no cost to hospitals. Initially, the artwork was painted directly onto the hospital walls during PaintFest events where patients and volunteers worked together to ease the anxiety that so often accompanies illness and sterile hospital settings.
The Foundation has grown to include over a million volunteers who have completed 44,000 paintings placed in 4,000 hospitals and nursing homes in 195 countries. John's son, Scott Feight, remembers painting at Northside Hospital as a kid. When he returned to Atlanta after college and began working for GE Energy, his passion for nonprofit work led him to join the Foundation's Board and serve as President of the GE Volunteers Council. Now, he is the Foundation for Hospital Art Executive Director.
Perhaps most notable in the Foundation's tremendous growth over the past three decades has been the transition from murals on hospital walls to painting on canvas. Donors select PaintFest kits from a variety of designs and the Foundation ships the canvases, design, and all necessary supplies directly to them. The designs are a "paint-by-number" format so no artistic ability is required. When the canvases are complete, they are shipped back to the Foundation where an artist touches up the artwork. They are then sent to a hospital and displayed with the sponsor's name.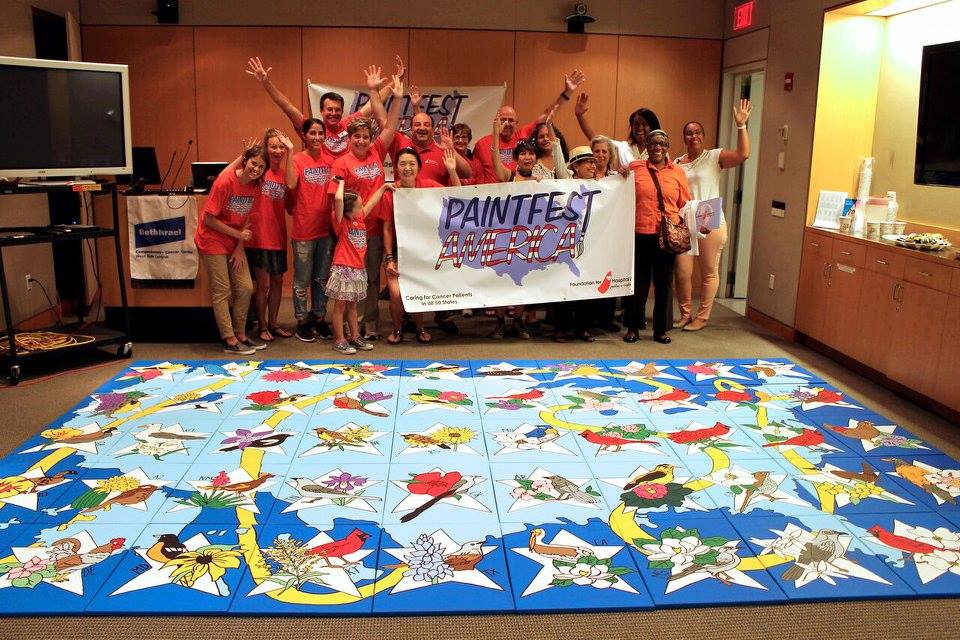 PaintFest America
The canvases have also been essential to PaintFests that still occur on site at hospitals. "Canvases allow you to paint with a patient who may not be able to get out of bed, or who is confined to a wheelchair," Scott said. This work has created emotional experiences for volunteers and patients, as Scott recalls painting with a child at a cancer hospital in Argentina who knew he only had a day or two longer to live and the only thing he wanted to do was paint so that patients would have something pleasant to look at and remember him by. The switch to canvas has also taken the Foundation to unique PaintFest locations such as Mongolia, Siberia, and a drug rehab hospital in Cambodia. The Foundation has hosted PaintFests with homeless veterans, prisoners, and military troops overseas.
The quest is to paint in every hospital in the world, which they are well on their way to doing with PaintFest America. This summer, Foundation for Hospital Art embarked on a nationwide trip to paint with cancer patients and survivors in one hospital in each state and the District of Columbia from July 5 to August 23. PaintFest America will culminated in New York where a full installation of canvases featured each state's bird, flower, and cancer ribbons painted during the tour will be assembled and displayed.
Foundation for Hospital Art recently became a Pro Bono Partnership of Atlanta client and participated in Legal Check Up where attorneys identified issues that volunteer attorneys will resolve over the next year. Thus far, the Foundation has worked with Patty Butler of Turner Broadcasting System, Evan Pontz of Troutman Sanders LLP, Robbin Rahman of Kilpatrick Townsend, and Corbin Kennelly, Alexandra Greene, and Danielle Vega of Paul, Hastings, Janofsky & Walker LLP. Scott said that Pro Bono Partnership of Atlanta has really made Foundation for Hospital Art aware of the small issues that often get overlooked and the importance of compliance.
"Sometimes we just get so focused on our mission and getting artwork out there," Scott said, "but this allows us to take steps now to ensure that we will be able to continue on."