For over 20 years, Project Community Connections, Inc. (PCCI) has helped people in Atlanta and beyond experiencing homelessness find permanent affordable housing.
Alison Boyer began working with PCCI as a volunteer with Pro Bono Partnership of Atlanta in 2018. Originally PCCI had a very specific request for Alison – help with reviewing a lease agreement. Over the course of the next several months, the team at PCCI and Alison developed a close working relationship which has continued.
After the initial lease review, Alison graciously and willingly continued reviewing purchasing and joint agreements for PCCI. But beyond that, she has been able to offer comprehensive legal reviews of all of PCCI's real estate projects. "As a non-profit, sometimes you don't know what you don't know. Alison's work with us has given our board a great deal of security," states Margaret Schuelke, Co-CEO of PCCI.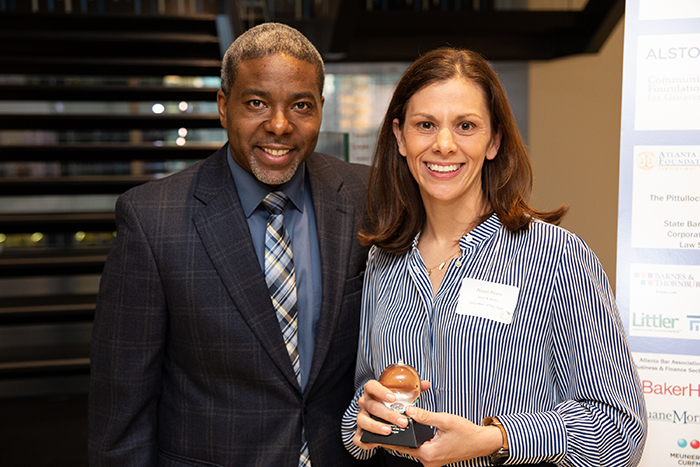 In 2019, PCCI received news they'd been waiting for – the approval to receive a low-income housing tax credit. This was the first step to a much bigger goal which will allow PCCI to build 117 units of affordable housing on their property.
Alison has been an essential part of bringing this goal to fruition. "Throughout tricky and complicated real estate transactions, she has always been there for us," said Co-CEO Jimiyu Evans. "She always treats us as she would any other client. She always makes time for us, taking phone calls when she's traveling, at the airport – even on family vacations."
One of the things that makes Alison such a remarkable volunteer is that she maintains a low profile. "She stays in the shadows, doing what needs to be done without fuss and staying out of the limelight," Margaret comments. "She doesn't know what an integral part of our team she is," adds Jimiyu.
PCCI continue to thrive because of great Pro Bono Partnership volunteers like Alison Boyer.