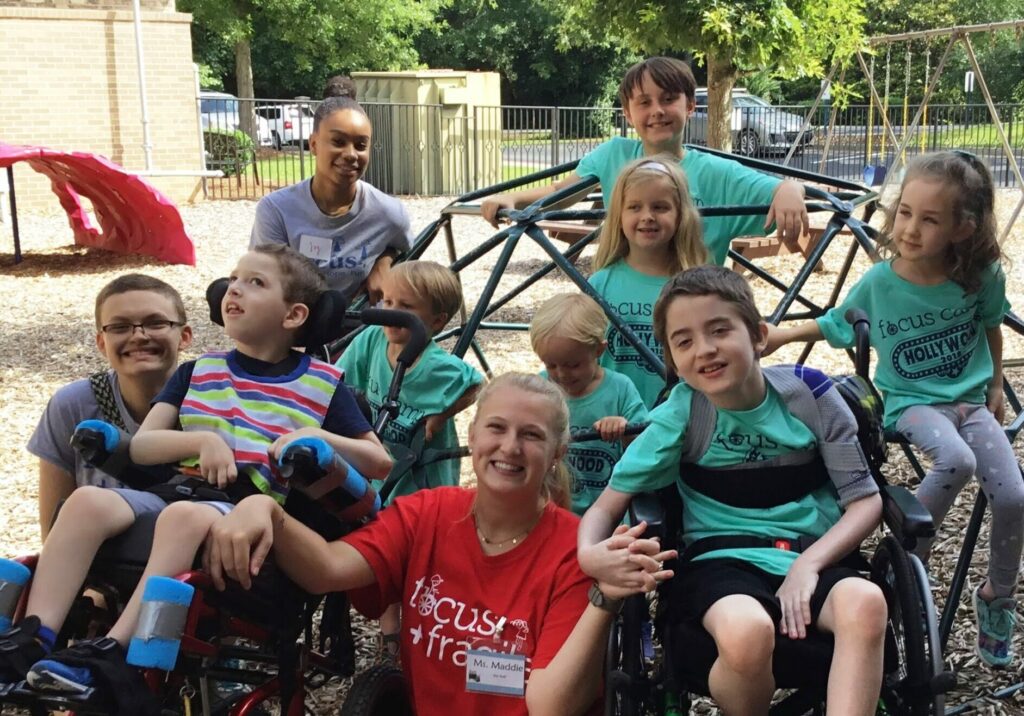 Families of Children Under Stress (FOCUS) was founded in 1983 by two families seeking support for themselves and their children with rare genetic illnesses. Over the last 40 years, FOCUS has provided support and resources to over 4,500 Georgia families of children with physical and/or developmental disabilities.
FOCUS's programs center around creating community at each stage of a child's life and development. This can include everything from hospital support and an equipment grant program to educational resources, programs for teens and young adults, and respite programs. Children at FOCUS are able to participate in an adapted summer day camp held in seven locations around metro Atlanta and an adapted swim team, in addition to other programs all specifically designed for children with disabilities to fully participate in and enjoy.
FOCUS knows it is important for the whole family to be supported. They plan events and meetups allowing parents to meet other parents and siblings to meet other siblings. Whether it is a trip to the aquarium, the zoo, or a local park, FOCUS's clients are able to find community with each other. As FOCUS celebrates its 40th anniversary in 2023, they are excited to be able to continue connecting families across Georgia.
PBPA has been able to support FOCUS with over 30 legal matters since 2016. Volunteer attorneys stepped in to assist when FOCUS merged with another nonprofit organization in 2017 and established the equipment grant program. PBPA volunteer attorneys have also assisted with policy preparation and review, risk management, and PPP loan advice. Executive Director (and FOCUS parent) Frances McBrayer states, "It's amazing that a resource like PBPA exists. As we celebrate our 40th anniversary as an organization, we recognize that the professional legal support we have received and continue to receive through PBPA ensures that FOCUS will make an impact on children with disabilities and their families well into the future."
Some of the PBPA volunteer attorneys who have worked with FOCUS include: Anu Seam (AT&T); Benjamin Fink (Berman Fink Van Horn); Aaron Lapniewski (Bryan Cave Leighton Paisner); Meredith Burris (Children's Healthcare of Atlanta); Heather Howdeshell Morlock, Adam Humphreys, and Andrea Clark (Delta Air Lines); Kevin Hembree (Georgia Pacific); Matt Kirk (Holland & Knight); Rich Cicchillo, William Sparkman, Farah Cook, and Rolando Rengifo (Kilpatrick Townsend); Joe Englert (McGuireWoods); Tate Gray (Morris, Manning & Martin); Will Ledbetter (Southern Company); Gail Gunnells (The Coca-Cola Company); and Richard Litwin (The Litwin Law Firm).