Studies have shown that over 80% of children of prisoners will one day be incarcerated themselves. These children grow up without the support of one or both of their parents. kidz2leaders teaches children of prisoners that they are in charge of their destiny, and while the statistics say one thing, they can grow up to be whoever they want.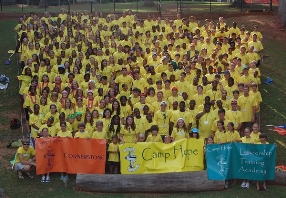 kidz2leaders began in 1999 to help change the lives of prisoners' children and to break the vicious cycle of incarceration. They teach these often overlooked children leadership, social skills, and financial responsibility. Most importantly kidz2leaders provides these children with emotional and spiritual support.
kidz2leaders starts with a week-long fun-filled camp, camp hope®. Third through fifth graders learn to rise above their circumstances with sports, art, singing, camp fires, and praise and worship time. Seventh through ninth graders who have been with the program at least two years attend the Leadership Training Academy. This program teaches children to have self-control, develop group strategies, and create personal goals and ideals.
interns4tomorrow, another kidz2leaders program, connects former campers with companies throughout Atlanta. Many children of prisoners only know a life of government dependence; interns4tomorrow enables graduates of the Leadership Training Academy to gain valuable job skills as interns while they earn money. These students grow up with kidz2leaders, having learned to overcome major adversity and break the cycle of incarceration and government dependence.
kidz2leaders became a Pro Bono Partnership of Atlanta client in March of 2009. Of the work that Pro Bono Partnership of Atlanta has done for this deserving organization, kidz2leaders founder and president Rev. Diane H. Parrish has said, "[w]ithout the generosity of the Pro Bono staff and participating attorneys, these efforts would not be possible. Our non-profit organization is extremely focused on minimizing operational costs and does not have the budget to pay for these legal services … We are most grateful for the advice, guidance, and expertise of the attorneys that have willingly consulted with us."
The following volunteer attorneys have worked with kidz2leaders to help ensure the organization's continued success: Michelle O'Leary of Littler Mendelson and Marcia Alembik of Hunton & Williams LLP assisted kidz2leaders in evaluating its risks in the internship program; Brynne Goncher of Morris, Manning, & Martin LLP has provided legal advice regarding HIPAA compliance in connection with its camp applications; Peter Farley of Beaulieu Group, Lou Barbieri of Womble Carlyle, and Lori Shapiro of Graphic Packaging Corporation did a legal assessment during Pro Bono Partnership of Atlanta's Nonprofit Legal Check-Up. Presently, George Sewell, Shymeka Hunter of Jackson Lewis, and Adam Humphrey of King and Spalding LLP are assisting on various legal matters for the organization.