According to the American Bar Association's Commission on Domestic Violence, 1.3 million women are physically assaulted by an intimate partner every year in the United States. In 2000, 1,247 women were killed by an intimate partner.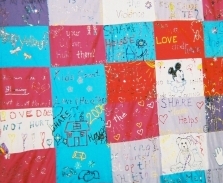 S.H.A.R.E. House Quilt
In response to this tragic situation, battered women's shelters such as the S.H.A.R.E House, in Douglasville, Georgia, have made it their mission to offer a safe place for victims of domestic violence. The S.H.A.R.E. House's 24-hour emergency shelter provides 25 beds to battered and homeless women and children, as well as three meals per day.
The S.H.A.R.E. House is devoted to bringing a sense of order and stability into the lives of women and children affected by domestic violence. The organization offers seven transitional apartments to help get women get back on their feet and take back their lives. Women who participate in the transitional program can receive job-readiness training, enroll in school, and take advantage of employer connections. Support groups, such as parenting classes and life-skills classes, are offered to battered women, and children who come from violent homes are also provided counseling.
Of the work that Pro Bono Partnership of Atlanta has done for this deserving organization, S.H.A.R.E. House executive director Teresa Smith has said, "we greatly appreciate the knowledge and support that the volunteer attorneys have provided to S.H.A.R.E House. Their compassion for our needs as a nonprofit and willingness to work with us and guide the organization on issues when legal services are not available have been outstanding."
Pro Bono Partnership of Atlanta has matched the S.H.A.R.E. House with several volunteer attorneys to strengthen the legal health of the organization. Currently, Diane Prucino of Kilpatrick Stockton is advising the S.H.A.R.E. House on an employment-related matter; and Tamera Woodard of Schiff Hardin is making revisions to the employee handbook. John Lewis of the Coca-Cola Company and Jill Wasserman of King & Spalding advised the S.H.A.R.E. House during a recent Nonprofit Legal Check–Up organized by Pro Bono Partnership of Atlanta. The organization is currently seeking assistance from a volunteer attorney with revising its client handbook and addressing liability concerns.