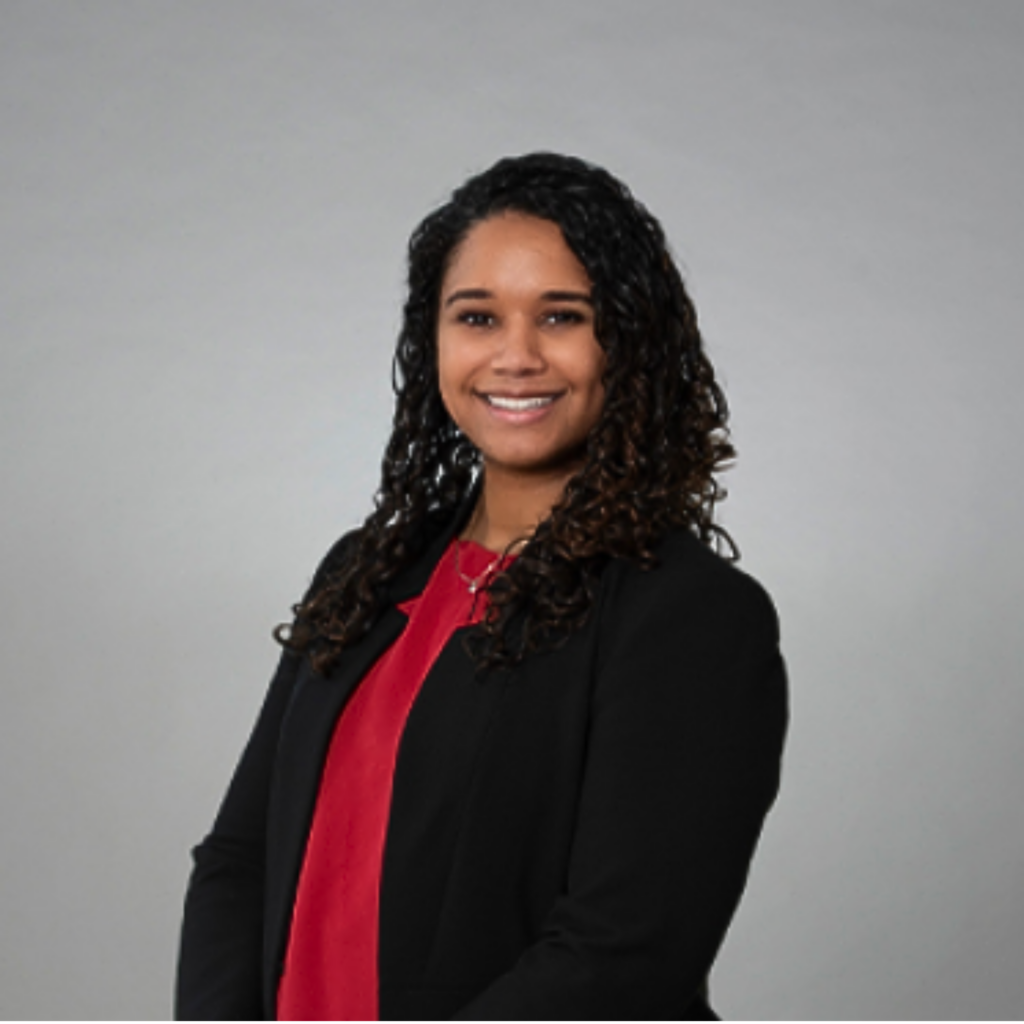 Jazmen Howard of Eversheds Sutherland has many roles: attorney, University of Florida grad, mother, and – for the last few years – PBPA volunteer. Jazmen took on her first project with Pro Bono Partnership of Atlanta in 2021 and has been a stand-out volunteer attorney ever since. Working on matters ranging from mergers to liability releases and handbook changes, she has become an indispensable part of our team of 1000+ volunteers.
Before Jazmen became a PBPA volunteer, she had experience in both the legal and nonprofit worlds and was able to marry those two passions through volunteering.
Jazmen knew she wanted to be a lawyer from a young age, saying "If you asked me what I wanted to be [growing up] I would always say a doctor or a lawyer." However, as she moved through undergrad and her university athletic career, her brief interest in being a sports physician waned. "Well, the only other option now is to be a lawyer, right? Because in my brain that was it. And for a long time, I thought I wanted to do criminal law and that was just because of my family's strong background and experience with the criminal justice system."
Her exposure to the justice system started earlier than most. On her first day of first grade, Jazmen was dropped off at school by her mom, and then unexpectedly picked up by her dad, who moved the two of them to a new city overnight. "After I was dropped off to school, my mom had been arrested. And so from then on, I was the daughter of an incarcerated person or the daughter of a formerly convicted felon." That experience served as the lodestone of her career as she began exploring what a pathway in law could actually look like.
While Jazmen had an early interest in the law, she didn't know many people in the legal profession. "I knew, like, one lawyer because I tutored his daughter in math, and he let me intern with him for a summer. And that's where I was exposed to civil law, family law, and a bunch of different things because we're from a small town. So those lawyers do a little bit of everything."
As she moved through law school, Jazmen began to home in on the possibilities of what path she could follow. Having been in and around nonprofits for years, she knew she wanted to be a force for good in the world. But being on the frontlines takes a toll. When asked why she chose a path in corporate law she says, "I had been heavily involved with a nonprofit organization in Nashville focused on human trafficking survivors and their children. So going into law school, I thought I really want to do something like that. But I realized there's no way I couldn't bring this home to my family. A big part of this profession is being able to balance your desires and your goals, but also taking care of yourself and protecting your own peace. And so, I had to kind of think 'how can I best do that?'".
That self-knowledge spurred her to look for a firm that would support her need to serve the community she was in, while also using the skills she gained as an attorney. She recalls that in the process of looking for a firm to call home, she ran into many employers who saw an incongruity in her love for nonprofits and her scope of practice. "I had several places look at my resume and be like 'Are you sure that this is what you want to do? Like isn't the public defender's office better suited for you?". However, as she was looking for opportunities in the beginning of 2020, she found her place at Eversheds Sutherlands, noting "the reason why I went to Eversheds was because I wanted to affirm that where I worked not only talked the talk but walked the walk with pro bono commitments."
That walking-the-walk commitment helped land pro bono experiences right in her lap. "I started to see the monthly newsletters that went out and I realized [Pro Bono Partnership of Atlanta] is an organization I want to get involved with because there's so much for anybody's field. It's not just slotted for landlord/tenant, etc. I knew I didn't really want to do [litigation] and I wanted a broader focus. And so Pro Bono Partnership of Atlanta afforded me that opportunity."
When asked what her first thoughts were when considering volunteering for PBPA, she laughs and remembers that she was a junior associate and new to the firm. "Pro bono is really intimidating and daunting when you first come on. I feel like I don't know anybody; I don't know anything. How does that help somebody? But Eversheds makes it really easy to take on a case, and if you need help, there's someone here that can help guide you. That really gives you the confidence to go out on your own and take on these matters because there's always someone to help you or there's someone in your corner."  She adds that PBPA also gave her the chance to learn and grow, saying "Even if you're nervous about taking on a matter by yourself, just think about the opportunities that you could have with your colleagues – a pro bono project is sometimes the best way to get that one-on-one. It's the time that I get to sit down and get to learn the subject matter and how to do it without having to worry about anyone complaining about the fees. It feels like I don't have to cut any corners. I can just go all in and take the time to learn and to serve." When asked if she has any advice for new volunteers, or even those wanting to volunteer their time but are unsure of how to start, she offers, "Helping one organization is helping multiple people at a time. When you have that perspective, your anxiety can be pushed to the side and you're like, okay this is actually for the greater good."
When asked for parting advice for any lawyer – whether it be for first year associate or an established partner interested in giving back, she says "take the plunge. Go all in. Jump into it and recognize that you're going to be learning and the nonprofit is going to be learning. Everyone will be learning and growing in different ways, but the interests are mutual – they're the same."