The Coca-Cola Company – ABA Business Law Section's 2012 National Public Service Award
Kilpatrick Townsend & Stockton LLP – State Bar of Georgia ABC Pro Bono Business Law Award
Timothy B. Phillips –Atlanta Business Chronicle Corporate Counsel Award for Community Champion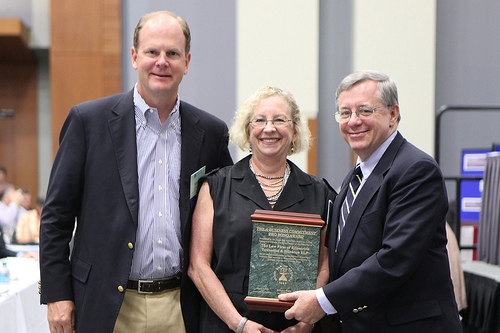 Henry Walker and Debbie Segal of
Kilpatrick Townsend accept pro bono award
Pro Bono Partnership of Atlanta would like to congratulate The Coca-Cola Company, Kilpatrick Townsend, and Timothy Phillips on their 2012 pro bono awards.
Each year, the ABA Business Law Section's National Public Service Award recognizes an individual business lawyer, a law firm, and/or a corporate law department for demonstrating significant pro bono services. Executive Director Rachel Epps Spears nominated The Coca-Cola Company for the award based on its sustained commitment to proving pro bono legal services to the poor through a variety of programs, including Pro Bono Partnership of Atlanta (PBP-Atl). The Coca-Cola Company played a pivotal role in founding PBP-Atl in 2005 and since that time, 55 Coca-Cola attorneys and paralegals have advised clients of PBP-ATL on almost 150 legal matters. In 2011 alone, Coca-Cola attorneys worked on 25 different pro bono projects for nonprofits. Coca-Cola's attorneys and paralegals have provided free legal advice to nonprofits such as the Down Syndrome Association of Atlanta, Fugees Family (an organization that teaches life skills to refugee children through soccer), and Voice Today (a nonprofit that works to protect and heal women from sexual abuse).
Pro Bono Partnership of Atlanta would also like to recognize Kilpatrick Townsend on receiving the State Bar of Georgia A Business Commitment Pro Bono Business Law Award. Over 140 attorneys in Kilpatrick Townsend's Atlanta office have volunteered on over 240 different pro bono projects through PBP-Atl. Kilpatrick Townsend attorneys have volunteered their time for nonprofits such as Caminar Latino (a domestic violence intervention program for Latino families), Foster Childrens' Foundation and Embraced Atlanta (an organization that provides orthopedic and prosthetic devices to low-income individuals, Enchanted Closet (a non profit that provides prom dresses to teens).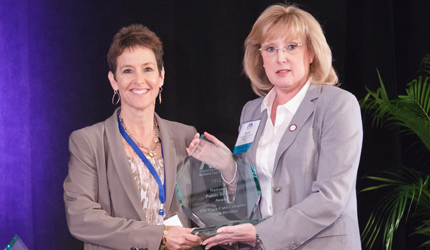 Elizabeth Finn Johnson of The Coca-Cola Company accepts pro bono award
Finally, Pro Bono Partnership of Atlanta congratulates Timothy Phillips for winning the 2012 Atlanta Business Chronicle Corporate Counsel Award for Community Champion. This award recognizes a corporate counsel who has performed excellent corporate work and made significant contributions in pro bono work. As Senior Counsel and now Interim Chief Counsel with the American Cancer Society, Tim has taken on more pro bono matters through PBP-Atl than any other volunteer. He has advised over 30 nonprofits on legal issues related to their tax-exempt status including Georgia Justice Project, Habitat for Humanity DeKalb and Georgia Asylum and Immigration Network. Notably, the other finalists for the Community Champion Award are also outstanding PBP-Atl volunteers and supporters: Elizabeth Finn Johnson of The Coca-Cola Company and Teri McClure of United Parcel Service.
"We see our volunteers give generously of their time and expertise every day. It's wonderful when they get recognition from others for the important work that they do," said Rachel Epps Spears.