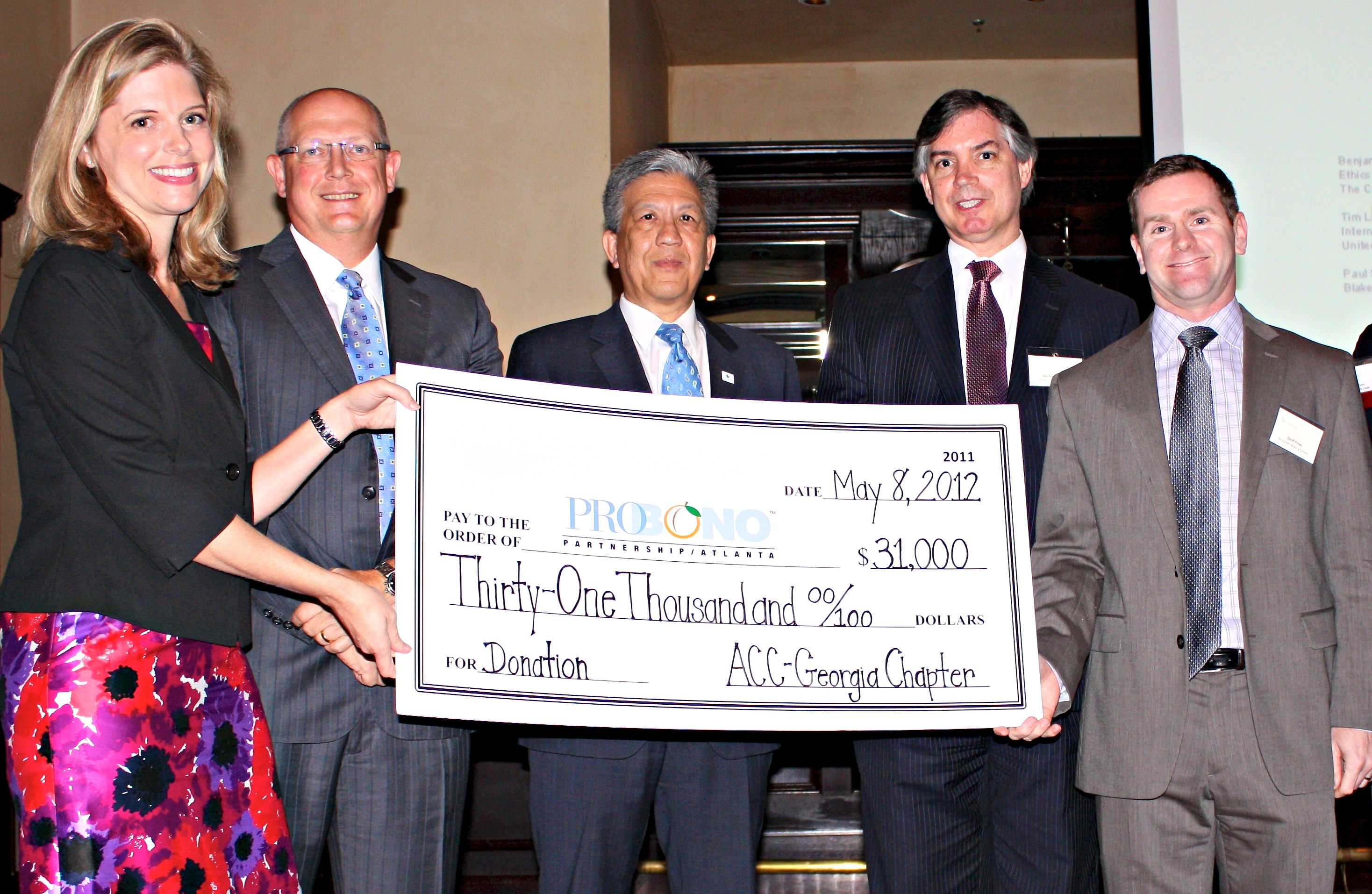 ACC May Lunch-PBP Check (L-R:Rachel Spears (PBPA),
Scott Burton (Sutherland), Michael Fong (Recommind),
Brett Lockwood (Smith Gambrell & Russell) and
Geoff Frost (Bondurant, Mixson & Elmore)
The 2012 Association of Corporate Counsel-Georgia Chapter (ACC-GA) Value Challenge event raised $31,000 for Pro Bono Partnership of Atlanta (PBPA). Sutherland, Bondurant, Mixson & Elmore, Smith, Gambrell & Russell and Recommind sponsored the Value Challenge, which was presented on March 29, 2012 with over 100 attorneys in attendance.
The funds raised at the Value Challenge event represent almost 10% of PBPA's 2012 budget. ACC-GA has raised almost $250,000 for PBPA in the last six years through annual fundraising events.
The ACC-GA Value Challenge event combined CLE presentations and breakout sessions that encouraged in-house counsel to discuss best practices for connecting the value and the cost of legal services. The Value Challenge saw participation from a wide array of in-house attorneys from metro-Atlanta based corporations, including UPS and GE Energy.
Faith Knight Myers, Lead Privacy Counsel at McKesson, participated in the event and commented, "it very well done. Substantively, all of the presenters discussed topics that were relevant to me. It was well worth my time."
Pro Bono Partnership of Atlanta thanks ACC-GA and its president Martha McMillin for their continued support, financial and otherwise, of our mission to maximize the impact of pro bono engagement of in-house attorneys.