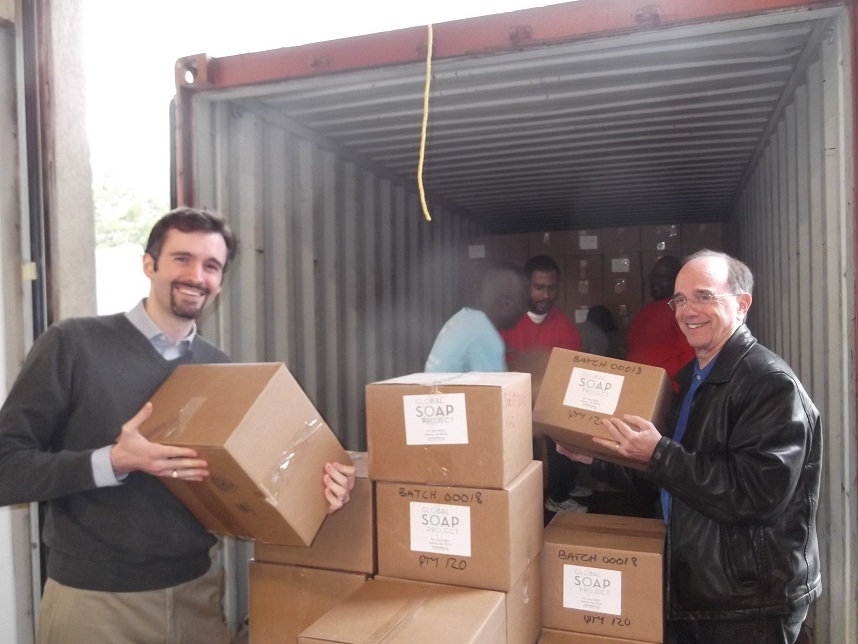 Volunteers loading soap to be shipped.
Hotels in the United States discard an estimated 2.6 million bars of soap every day. Around the world, there are over 45 million people with limited or no access to clean water or soap, leaving them susceptible to life-threatening illnesses.
Three years ago Derreck Kayongo and his wife Sarah, former Kenyan refugees, recognized the potential in what Americans throw out every day to save the lives of refugees and vulnerable populations. From their dreams and dedication emerged The Global Soap Project. What started as a small venture in the Kayongo's Atlanta basement, is now an organization partnered with more than 300 hotels. With the help of these hotels, The Global Soap Project generates over 100 tons of recycled soap for suffering communities in nine countries.
The organization collects soap in mass quantities from hotels and is then processed by volunteers at Global Soap Project's warehouse in Georgia. At the warehouse, a machine is used to filter out dirt and particles from the soap, and finally, the soap is sent to a laboratory and screened for pathogens before being shipped around the world.
The Global Soap Project's work has garnered much deserved international attention. Kayongo was recently recognized as a Top 10 Finalist for the 2011 CNN Hero Award. Along with the help of volunteer attorneys through Pro Bono Partnership of Atlanta, the organization has been able to focus their attention on helping those in great need.
"With their help, we've been able to improve the structure of our volunteer program and soap making operations. They've saved us considerable time and money – two resources that are critical to our success," says Sam Stephens, executive director of The Global Soap Project.
Pro Bono Partnership of Atlanta has worked with The Global Soap Project on a wide variety of projects. For example, Ashley Herd of Meyer Moser Lang advised the organization on hiring an executive director, and Alex Fonoroff and Sabina Vayner of Kilpatrick Townsend are currently assisting Global Soap Project with international trademark protection. Stacey Turner of Georgia Power, Sloane Perras of Aaron's and Luanna Petti have also donated their time and talents to help the Global Soap Project.