In the winter of 2016-2017, Hosea Feed the Hungry and Homeless had one big problem. It was dangerously close to losing its building and, with it, its entire metro Atlanta operation.
Civil rights activist Reverend Hosea L. Williams Sr. founded Hosea Feed the Hungry in 1971 with the goal of serving Atlanta's homeless population. After his death in 2004, his daughter Elizabeth Omilami took over the organization as CEO. In addition to providing food and other necessities to impoverished families, Hosea puts on holiday dinners, offers haircuts, helps individuals navigate overdue rent and utility payments, and invests in urban agriculture programs. The group has served over half a million individuals, and has expanded its outreach to include other vulnerable populations, including elderly individuals and isolated rural communities.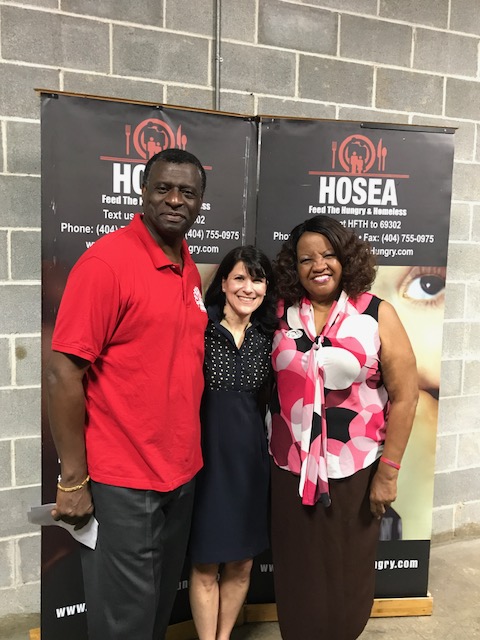 PBPA Tax Counsel, Robyn Miller with Mr. & Mrs. Omilami
For almost 20 years Hosea has directly served the community from the same location on Donnelly Avenue. In June of 2012, Hosea first met with Robyn Miller, Corporate/Tax Counsel for Pro Bono Partnership of Atlanta (PBPA) to discuss potentially purchasing its building. Adam Balthrop, a real estate attorney at Arnall Golden Gregory, offered pro bono assistance on the deal through PBPA. After some initial due diligence, the building purchase was put on hold. Then, in August of 2015, the building purchase was on again. Soon after, PBPA assembled an entire team of pro bono lawyers, contractors, and professionals set about making this purchase a reality. The team included Balthrop, Joe Scibilia and Robert Shaw from Kilpatrick Townsend & Stockton, and Jeff Margolin and Robert Patchett from Ramboll Environ. However, as the deal and due diligence progressed it became clear that this opportunity did not meet Hosea's long term needs and the organization decided to begin a search for a new location.
In the winter of 2016-2017, Ruby Howard, CFO of Hosea, contacted Robyn to discuss a startling development. The Donnelly Avenue building had been bought out, and Hosea had three months to move out or face paying an exorbitant $8,000 a month in rent. Without a building to operate in, Hosea could not provide services and, since its current source of funding required the organization to be actively providing services to receive funds, Hosea would lose all of its funding. As a result, Hosea either needed to find a new place, or potentially close its doors for good.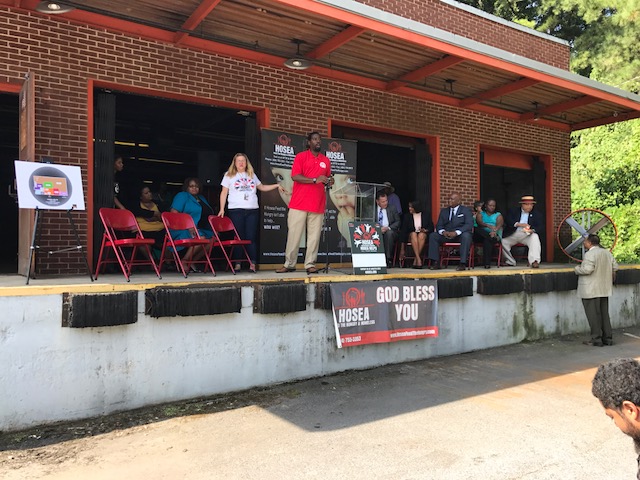 Hosea Feeds the Hungry & the Homeless' new home
With renewed focus, most of the PBPA pro bono team from the previous purchase agreement reassembled to tackle the problem once more. Additional assistance came from Jones Day real estate attorneys An Tran and Michael Lee, and real estate broker James Pitts from Kellogg Partners. The team negotiated with the Donnelly building's landlord for a few extra months at the current rent while Hosea looked for a suitable new spot. After a bit of searching, the group successfully located and negotiated a contract to purchase a building on Forrest Hills Drive which would provide Hosea with plenty of space and easy access to its client community. In addition, the team convinced Citizens Trust Bank to commit to favorable loan terms and to work expeditiously to get the due diligence accomplished. Ramboll Environ agreed to provide environmental due diligence and brought in Herman Kitt of SBC Construction Services to complete the asbestos analysis, with both companies only charging for out-of-pocket expenses. However, the organization quickly needed more funding in order to be able to close the deal. In a tremendous show of faith and heart, Atlanta's Mayor Kasim Reed met this need by pledging $200,000 from the City of Atlanta to help Hosea close on the new property, and carrying forward a previously committed grant of an additional $180,000 to help Hosea renovate its new building in the fall. This legal matter required over 258 hours of volunteer service, valued at $90,000 in legal fees.
Through the tremendous effort and teamwork of all parties involved, including Michael Lee and An Tran at Jones Day and Joe Scibilia and Robert Shaw at Kilpatrick Townsend, who provided their services for free through Pro Bono Partnership of Atlanta, Hosea Feed the Hungry, and the countless individuals it serves, will have a place to call home for years to come.