When VOICE Today founder Angela Williams spoke to three hundred women attending a retreat last year at Callaway Gardens and asked for volunteers to share if they had suffered from sexual abuse, over half of the women stood up. Many of these women broke the silence on their abuse for the first time that day and subsequently made a commitment to healing and restoration.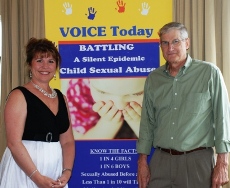 Angela Williams (founder) &
Tom Scales (executive director)
VOICE Today's mission is to break the silence and cycle of sexual abuse through protection, prevention, and healing. VOICE Today offers educational workshops that teach adults how to actively and proactively protect children from sexual abuse. Parents learn how to talk to their children about sexuality and personal boundaries. Understanding personal boundaries prepares a child to recognize the difference between OK behavior and not OK behavior. VOICE Today promotes engaging in this communication early on so that even young children will know if someone is acting inappropriately.
In addition to teaching prevention skills, VOICE Today's workshops teach adults how to detect signals of abuse. An abused child is more likely to tell a nurse, teacher, or classmate about the abuse than his or her own parents, often because the perpetrator is someone the child's family knows and trusts. VOICE Today strives to take the burden of reporting abuse off of the child by emphasizing adult intervention. VOICE Today empowers adults to be alert to symptoms of abuse in their own children as well as other children in their community.
VOICE Today also hosts workshops and support groups for survivors of sexual abuse to promote restoration and healing. Because the full-time VOICE Today volunteers are survivors of sexual abuse, they know firsthand what it is like to endure the abuse and live with its devastating effects.
It is the vision of VOICE Today to change the world into a place that is safe for children and compassionate to survivors. While child abuse is a worldwide problem, awareness and prevention programs are virtually unheard of in many other countries. VOICE Today has promoted its cause in Mexico and is currently working with a ministry for exploited children in Bulgaria. VOICE Today is also collaborating with students at the Savannah College of Art and Design to create educational books and dolls based on the books' characters.
Pro Bono Partnerhip of Atlanta has matched VOICE Today with Chris Bussert and Sabina Vayner of Kilpatrick Stockton and Mialeeka Williams of The Coca-Cola Company who are currently advising VOICE Today on trademark, copyright, and website issues, and Mona Maerz of Chamberlain Hrdlicka, who is working with the organization on waivers and releases.