Keeping it all in the family is important to Ashley Richardson, owner of City Automotive. Thirty-two years ago his father began this family-owned business, where Mr. Richardson and his wife now work. Even their 11-year-old son can occasionally be found helping out.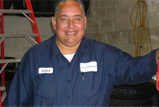 Ashley Richardson of City
Automotive
Mr. Richardson recently found himself in need of an equipment loan in order to keep this family-centered business thriving. Several banks turned Mr. Richardson down but eventually he found the Atlanta Micro Fund (AMF). After completing the loan program orientation and application process, City Automotive received a $3500 loan from AMF to purchase a vehicle lift. This additional equipment will help City Automotive repair more cars in less time, thus making it possible for Mr. Richardson to continue the business his father started long ago.
The Atlanta Micro Fund, a certified Community Development Financial Institution and U.S. Small Business Administration Micro Loan intermediary, helps to create jobs for low and moderate-income small business entrepreneurs in metropolitan Atlanta. AMF began operations in April 1999 and serves microenterprises in Fulton County and surrounding counties.
From its inception, AMF recognized that entrepreneurs, like Mr. Richardson, are often excluded from traditional small business sources of financing. AMF operates a small business loan program that gives entrepreneurs and business owners the opportunity to receive up to $15,000 in capital to launch or expand small businesses in metropolitan Atlanta. Additionally, the Atlanta Micro Found provides small business counseling to assist borrowers in developing personal budgets, business cash flow projections, marketing strategies and materials. These programs help AMF achieve the goal of stabilizing and increasing the household income of low to moderate-income small business owners.
Pro Bono Partnership of Atlanta has matched the Atlanta Micro Fund with several volunteer attorneys to strengthen the legal health of the organization. Currently, Reginald O'Shields of Federal Home Loan Bank of Atlanta and Cindy Hanson of Kilpatrick Stockton are ensuring that AMF complies with the Fair Credit Reporting Act. Diane Prucino of Kilpatrick Stockton is addressing employment questions, Jennifer Miller of King & Spalding is drafting an agreement, and Edward Falso of GE Energy is preparing a waiver form for the organization.