What do President Barack Obama, Paula Deen, Ernest Borgnine, and Good Morning America's Robin Roberts have in common? All have participated in fulfilling the dream of an elderly person through Second Wind Dreams. In the past twelve years, Second Wind Dreams has built an award-winning program which trains eldercare communities nationwide on how to raise the resources to make residents' dreams come true.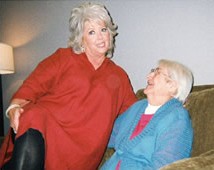 Paula Deen fulfills the dream request
of 88 year old Eveline Kelly
The idea for Second Wind Dreams grew out the work of geriatric specialist P.K. Beville, M.S. who co-authored Second Wind, a novel about people living in a nursing home. PK found "that after a dream had been fulfilled, the effects linger, giving all involved a Second Wind." Second Wind Dreams' programs enhance the quality of life for those living in eldercare communities by decreasing resident depression, increasing staff morale, providing life-changing volunteer opportunities, and creating a positive environment for all of those involved in the dream fulfillment process. The program has received attention from the national media including Southern Living, The Associated Press, The Atlanta Journal-Constitution, CBS Evening News, People Magazine, CNN, The American Journal of Alzheimer's Disease, Assisted Living Today, NBC's Three Wishes with Amy Grant, and the Hallmark Channel.
Pro Bono Partnership of Atlanta has matched the Second Wind Dreams with several volunteer attorneys to strengthen the legal health of the organization. Currently, Rupert Barkoff of Kilpatrick Stockton is drafting a franchise agreement as the organization seeks to formalize its relationship with its chapters. Faith Knight of McKesson has worked with Second Wind Dreams on HIPAA-related issues and drafted a media waiver. Evan Pontz of Troutman Sanders LLP volunteered his services on several employment-related issues, and attorneys from Turner Broadcasting System, Gardner Groff, and Kilpatrick Stockton have assisted with a variety of intellectual property issues.
Second Wind Dreams is founded on the principle that people are never too old to dream or to have their dreams come true. The greatest percentage of dreams are "just for fun" such as going to The Price Is Right, riding a camel, or cruising around town in a red convertible. Second Wind Dreams also fulfills many other types of dreams of low income seniors such as reuniting them with loved ones, taking one to swim with dolphins, or helping them to relive past experiences. Most dreams are funded for less than $100, and some as are simple as taking a resident to see his garden one last time or providing a resident with art supplies.