Pro Bono Partnership of Atlanta recently announced the appointment of Briley Brisendine to its Board of Directors. The staff and current board are happy to welcome Brisendine, who joined Home Depot in June 2003 after practicing at McKenna Long & Aldridge for seven years in the firm's Securities and Corporate Governance group.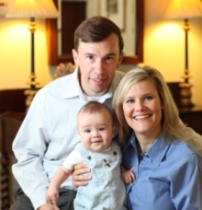 The Brisendine Family
Brisendine is currently serving The Home Depot as Vice President–Corporate Law and Associate General Counsel.
"Especially in tougher economic times, it is important for law firms and corporate in-house law departments to appreciate the breadth of both the nonprofits served and the opportunities available to do pro bono work through Pro Bono Partnership of Atlanta.," said Brisendine. "We need to continue to make sure people know how great of an organization it is from a management perspective too."
Brisendine, as the former Chair of the Executive Committee of the Corporate Counsel section of the State Bar of Georgia, worked with attorneys who were doing work for Pro Bono Partnership of Atlanta, and made a push at The Home Depot to get attorneys there more involved.
Under Brisendine's leadership, the Pro Bono Partnership of Atlanta is now one of the Home Depot Legal Department's main philanthropic endeavors.
"The Home Depot was one of the founding sponsors of Pro Bono Partnership of Atlanta in 2005," said Rachel Epps Spears, Executive Director of Pro Bono Partnership of Atlanta. "We were thrilled that Briley agreed to be our first board member from The Home Depot and the Partnership is already benefiting from his leadership skills."
Briley and his wife, Elena Parent, welcomed their first son, Brooks, in February 2010.