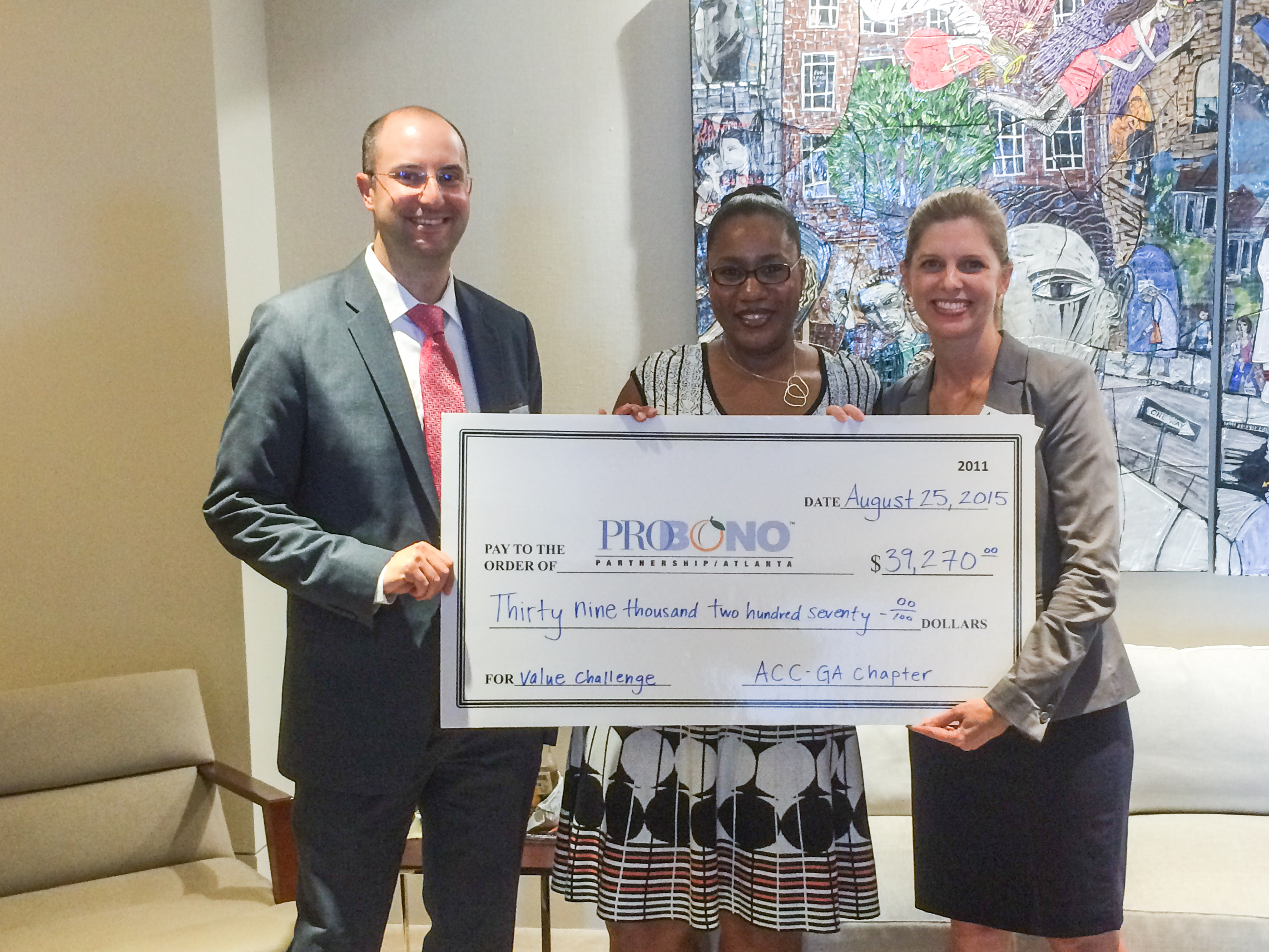 L-R: PBPA Board Member Jared Brandman, ACC-GA President Rachel Gervin, and PBPA Executive Director Rachel Epps Spears
The Association of Corporate Counsel – Georgia Chapter (ACC-GA) recently raised almost $40,000 for Pro Bono Partnership of Atlanta with their annual Value Challenge event. ACC-GA has reached almost $350,000 in all-time donations to Pro Bono Partnership of Atlanta. Its annual Value Challenge, currently in its fifth year, has raised over $155,000 for PBPA. The Value Challenge replaced previous ACC-GA events that benefitted PBPA including a golf & tennis tournament.
"It is very difficult to put into words how much we appreciate the contributions of ACC-GA over the past nine years," said Executive Director Rachel Epps Spears. "The $350,000 raised by ACC-GA and the generous sponsors of the ACC-GA's events has enabled us to add staff in order to keep up with the tremendous growth of our organization. Given that our primary mission is to provide pro bono opportunities to in-house attorneys, the support of ACC-GA is especially meaningful. And it's not just financial support. At each ACC-GA meeting, I see members that volunteer their time with us regularly. We are proud of and incredibly grateful for our close relationship with ACC-GA."
The 2015 Value Challenge took place April 21, 2015 at Sutherland and included sponsorships from Bondurant Mixson & Elmore, Kilpatrick Townsend, Sutherland and Taylor English, as well as Trust Point International and Gerchen Keller Capital. The full day CLE event for in-house attorneys featured a variety of presentations and breakout sessions.
Pro Bono Partnership of Atlanta thanks the ACC-GA for its continuing financial support and aid in the mission of providing in-house and transactional lawyers with new and rewarding pro bono opportunities.