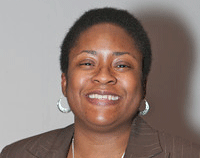 Lola Ibitoye
Pro Bono Partnership of Atlanta is pleased to welcome Lola Ibitoye to the staff as Office Manager. Although born in the United Kingdom, Lola considers Atlanta to be her hometown and has been involved in nonprofit work in the community for several years. Prior to joining PBP-Atl, Lola received a B.A. in Anthropology from the State University of West Georgia and has served as Program Assistant for both American Friends Service Committee and Refugee Resettlement and Immigration Services of Atlanta.
As Office Manager, Lola makes sure the office operates smoothly. From scheduling meetings to following up on the status of legal matters, she ensures that clients and volunteer attorneys are taken care of from start to finish. She adds, "I am pleased to join the staff here at PBP-Atl!"
Outside of PBP-Atl, Lola is an active member of Amnesty International USA and performs volunteer work for them on a regional and national level. She also currently sits on both their Regional Planning Group and National Resolutions Committee. In her free time, Lola enjoys reading, salsa dancing, and dog rescue.