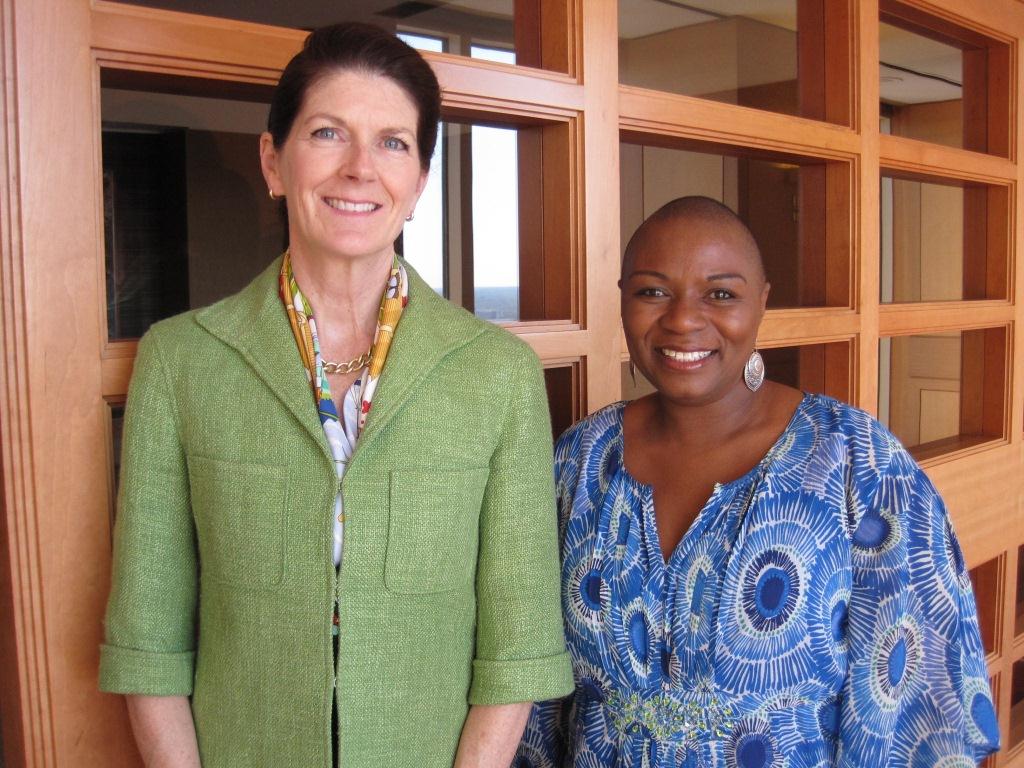 Marion Tilson of AT&T (left) and Lisa Williams of Circle of Friends
When Marion Tilson first spoke with her new client Lisa Williams, she had no idea that the pro bono matter she was handling for Lisa's nonprofit organization was the 3000th matter placed by Pro Bono Partnership of Atlanta. Neither did we, until we went back and checked our records. But it's not a surprise that Marion and Lisa were involved in this monumental matter. Marion, an attorney with AT&T, regularly volunteers for projects through PBPA and Lisa's organization, Circle of Friends, has sought assistance from PBPA on many occasions.
Lisa recently contacted PBPA seeking an attorney to review several contracts for Living Water for Girls, a program of Circle of Friends. Living Water for Girls rescues, rehabilitates and restores the lives of young American girls who have survived human sex trafficking and exploitation. Several colleges have offered to provide free admission to young women in the Living Water for Girls program. The colleges have prepared agreements that lay out each party's obligations and Lisa wanted an attorney to advise her. Marion, whose expertise is in contracts, was happy to help an organization with such a compelling mission.
Marion has volunteered for 11 PBPA projects since 2011 and was recognized as Pro Bono Partnership of Atlanta Corporate Volunteer Attorney of the Year in January 2012. Lisa has been recognized many times for her efforts in founding and running Circle of Friends, including by CNN and by L'Oréal as a 2011 Woman of Worth.
Lisa says of PBPA attorneys like Marion, "they are invaluable and have helped tremendously with Living Water for Girls' mission…. PBPA attorneys are, quite frankly, the best of the best. Their willingness to volunteer and share their knowledge, skills and abilities with nonprofit organizations like mine mean that we can continue to devote our limited resources to assist those we serve. PBPA involvement with our organization has no doubt helped to keep our doors open and to save the lives of 57 young girls. We are extremely grateful for their 'can-do' spirit and the hundreds of attorneys who have answered the call to serve."
For PBPA, the 3000th pro bono matter is another exciting milestone. Since the organization started seven years ago, almost 1800 attorneys have volunteered to help nonprofits with their legal needs. Who will be our 2000th volunteer?