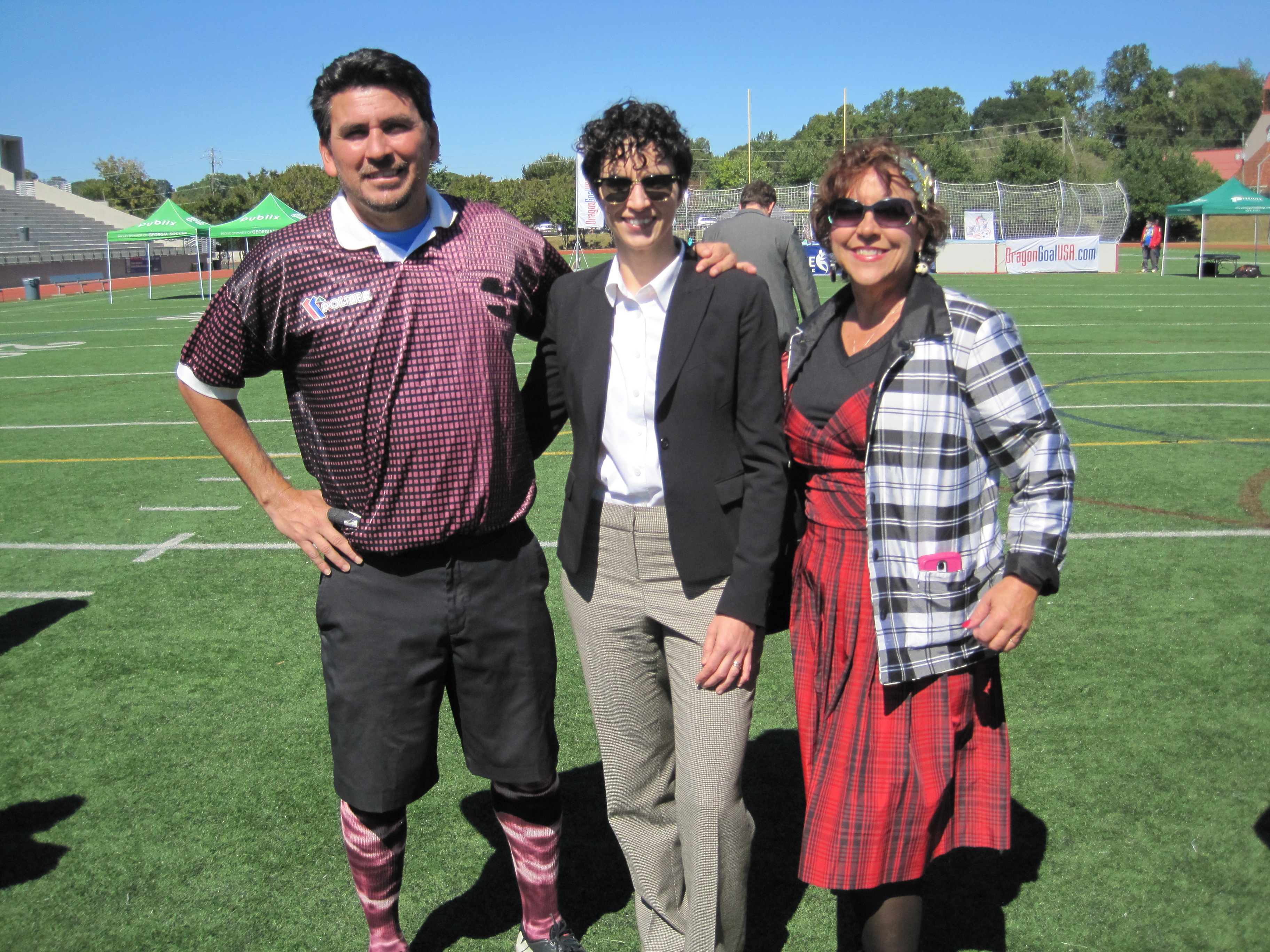 (Ricardo Montoya, Rebecca Roy and Jill Robbins)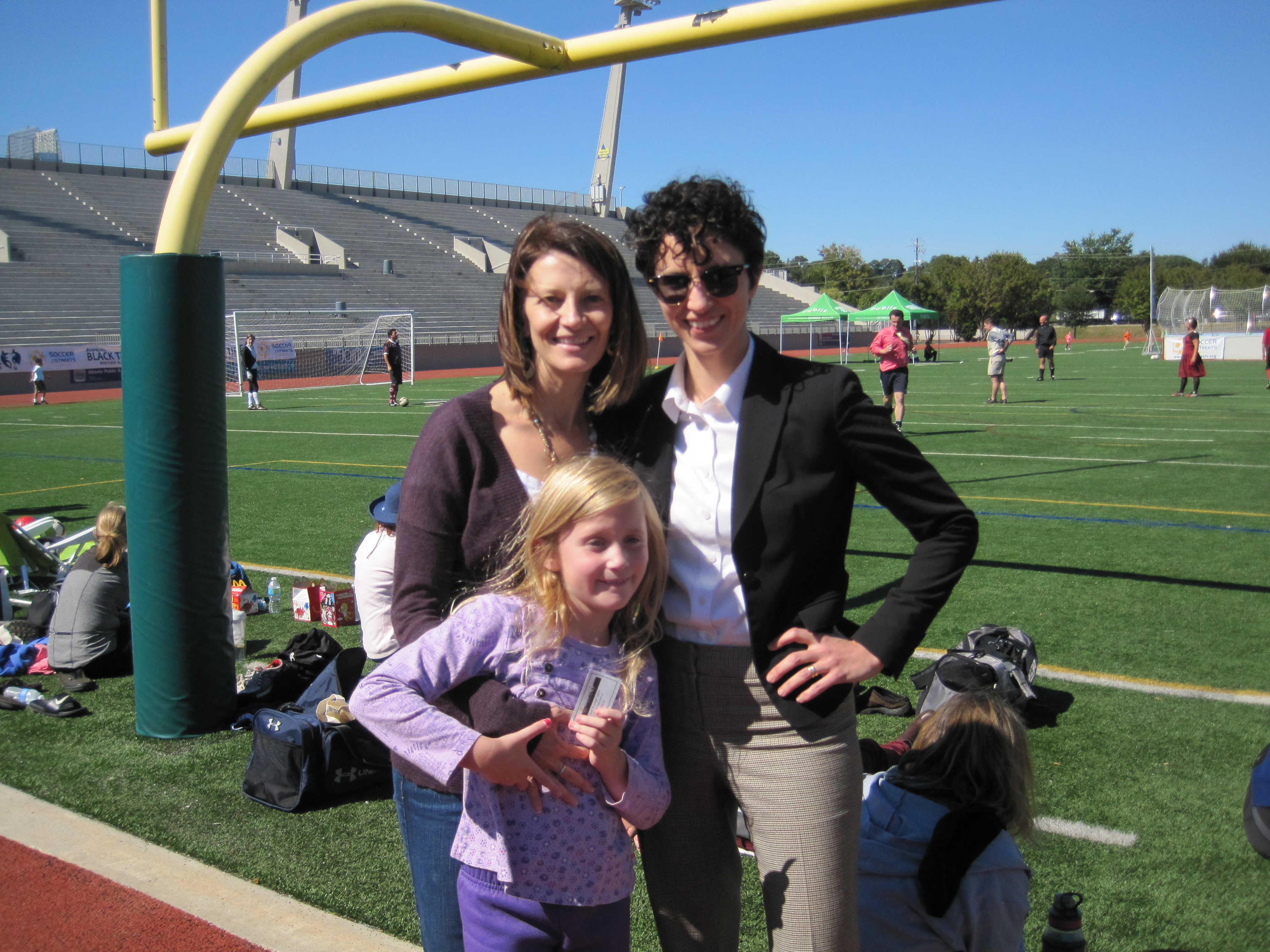 (Samantha Weidenbaum and her daughter and Rebecca Roy)
When Soccer in the Streets faced the threat of losing its valued Program Director Ricardo Montoyo in 2006, Pro Bono Partnership of Atlanta helped the nonprofit organization connect with volunteer attorneys who petitioned for permanent U.S. resident status and provided legal guidance through the process that would take nearly a decade to complete.
Attorney Samantha Weidenbaum and paralegals Alexandra Guerzo and Rebecca Roy worked with Soccer in the Streets CEO Jill Robbins and Mr. Montoya over a period of nine years to complete the immigration petition and process.
Fragomen LLP Partner Samantha Weidenbaum joined at the start. "This case started before my daughter was born and she is now 7 and ½, and our team has gone through three firms! … It has been a true pleasure to have been able to assist."
Soccer in the Streets was founded with the mission to provide soccer as an outlet for youth in urban and under-served communities with limited access to organized sports. The nonprofit organization has been spearheading social change through soccer since its creation in 1989 by hosting soccer clinics during FIFA World Cups and developing programs geared toward aiding academic, employment and life skills improvement.
Over the past decade, Soccer in the Streets established the first ATL Champions League, co-founded the international streetfootballworld network and the Urban Soccer Collaborative and launched its annual favorite Black Tie Soccer Game fundraiser. Current initiatives include expanding its popular School of Life program, bringing an intramural soccer league to Old Fourth Ward's Intown Academy and establishing the first soccer league on the West side of Atlanta in the downtown Castleberry Hill neighborhood. Now in its 25th year, Soccer in the Streets continues to expand while focusing on local initiatives in Atlanta, doubling the number of youth served since 2009.
Soccer in the Streets CEO Jill Robbins says the nonprofit is celebrating the success for Mr. Montoya and his family, as well as for the nonprofit organization. "We certainly would've lost a talented and valuable employee (if PBPA volunteers) had not been so willing and generous to take his case. I can't even imagine how a small nonprofit or even an employee of a small nonprofit could've done this without all of the pro bono work you've done."
Pro Bono Partnership of Atlanta has assisted Soccer in the Streets on a variety of projects over the years. Some of the 19 total projects have included work by attorney Robert Lockwood to prevent trademark infringement on the nonprofit's logo, attorney Rick McMurtry's work to acquire a Web domain name, and work by attorneys Matt Drain, Timothy Phillips, Jared Brandman, Kytle Frye and Justin Barnes to advise the organization on matters including policy, licensing and liability.