"I don't know what I don't know."
We hear that a lot from our nonprofit clients. Faced with an overwhelming array of laws, rules and regulations governing tax-exempt organizations, our clients often have trouble understanding the rules, much less staying in compliance with them. In an effort to prevent problems rather than just try to fix them, we launched a campaign of workshops, webcasts and website resources to educate nonprofits about the legal issues they face.
Each month, we present three workshops and webcasts on topics such as "How to Run a Board Meeting," "Employment Law 101" and "Legal Issues with Social Media." Our workshops are presented in partnership with organizations like the United Way of Metropolitan Atlanta, the Foundation Center or TechBridge in order to reach the broadest audience. We partner with Georgia Legal Services to present one workshop each month via webcast so that the viewers do not have to leave their desks.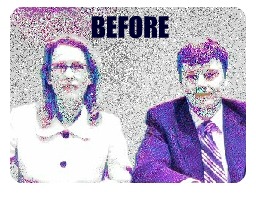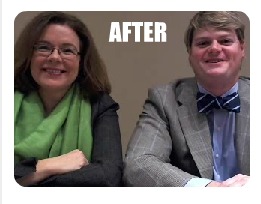 After our old cameras malfunctioned, we used funds from
the Charles M. and Mary D. Grant Foundation to purchase a new one.
Pro Bono Partnership of Atlanta recently received a $25,000 grant from the Charles M. and Mary D. Grant Foundation in order to help fund 72 workshops over the next two years. Our first expenditure of the funds was the purchase of a new webcam. See above for dramatic "before and after" shots using the old camera (which conveniently broke down shortly after we received the grant) and the new camera. Our old camera malfunctioned during the Legal Issues for Nonprofits that Work with Children webcast presented by Meghan Magruder and Shelby Guilbert of King & Spalding. The new webcam helped viewers clearly see and hear the Legal Issues of Social Networking webcast presented by Lael Bellamy of ING Americas and Justin Connell of Elarbee, Thompson, Sapp & Wilson. Thank you to the Charles M. and Mary D. Grant Foundation for recognizing the positive impact that our educational programs have on the sustainability of nonprofit organizations.