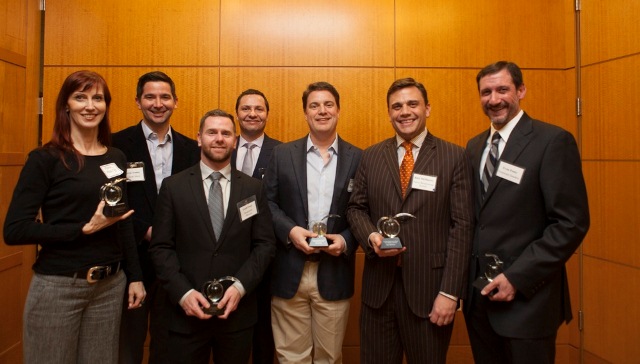 L-R Mona Maerz, Kevin Young, Geoff Frost, Rob Potter, Jeff Friedman, Rick McMurtry, Evan Pontz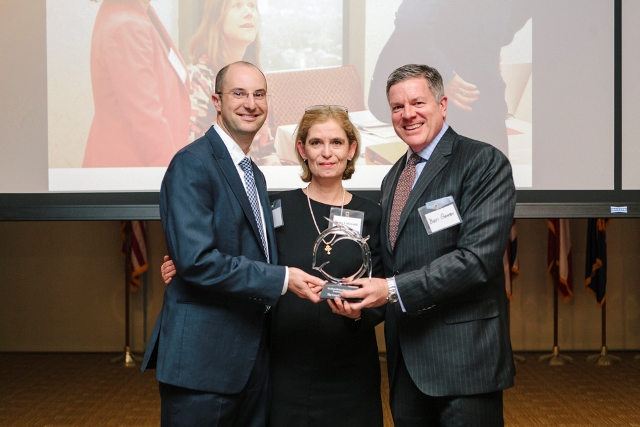 L-R Jared Brandman (Coca Cola), Betsy Griwsold (UPS), Ben Garren (Coca Cola)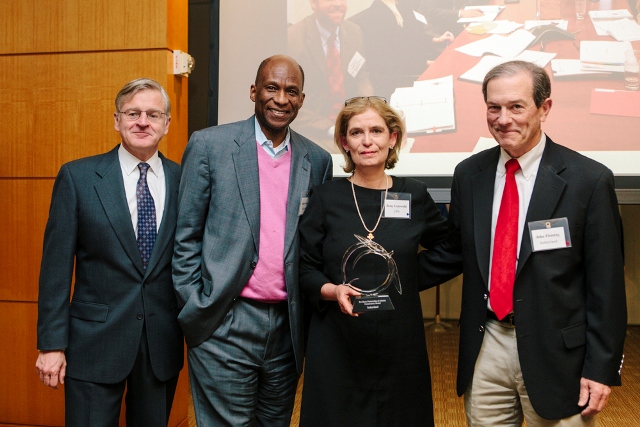 L-R Dan Warren (Sutherland), James Johnson (Sutherland), Betsy Griswold (UPS), John Fleming (Sutherland)
Attorneys of the Year
Kevin Young, Seyfarth Shaw
Kevin Young, a long-time volunteer, brought persistence and patience to a Department of Labor investigation and subsequent lawsuit.
Mona Maerz, Counsel on Call
Mona's willingness to take on challenging corporate and contracts projects has led her to complete 22 projects for Pro Bono Partnership of Atlanta, including 6 in 2014.
Evan Pontz, Troutman Sanders
Evan has assisted with 28 Pro Bono Partnership of Atlanta client projects, including several tricky employment issues.
Jeff Friedman, DLA Piper
Jeff has helped Pro Bono Partnership of Atlanta tackle its backlog of corporate projects, volunteering for 8 in 2014 alone.
Rick McMurtry, Turner Broadcasting Systems and Rob Potter, Kilpatrick Townsend
Rick and Rob worked together along with Roxanne Prejean from Turner and a team of Kilpatrick Townsend attorneys and support staff to represent a nonprofit in a declaratory judgment trademark case, settling it favorably for the client. Rick, one of Pro Bono Partnership of Atlanta's first volunteers and a former Board Chair, has assisted with 25 projects.
Corporation of the Year
Delta Airlines
Eleven outstanding Delta Airlines attorneys have assisted on 30 Pro Bono Partnership of Atlanta projects.
Law Firm of the Year
McKenna, Long & Aldridge
More than 75 McKenna, Long & Aldridge attorneys have volunteered on 175 projects for PBPA, with particularly notable work by the Corporate and Tax teams.
Special Appreciation Award
Geoff Frost, Bondurant, Mixson & Elmore
Geoff organized the Association of Corporate Counsel Georgia Value Challenge Event in 2012 and each year since, which has resulted in more than $115,000 in proceeds donated to Pro Bono Partnership of Atlanta.
Champion Award
The UPS Foundation
Since making its first grant in 2010, the UPS Foundation has contributed more than $300,000 to Pro Bono Partnership of Atlanta's work.
Cornerstone Award
The Coca Cola Company, General Electric Company, Kilpatrick Townsend and Sutherland
Each of these corporations and law firms made initial contributions to support PBPA's founding in 2005 and have continued to support PBPA at the $25,000 level or higher each year since.