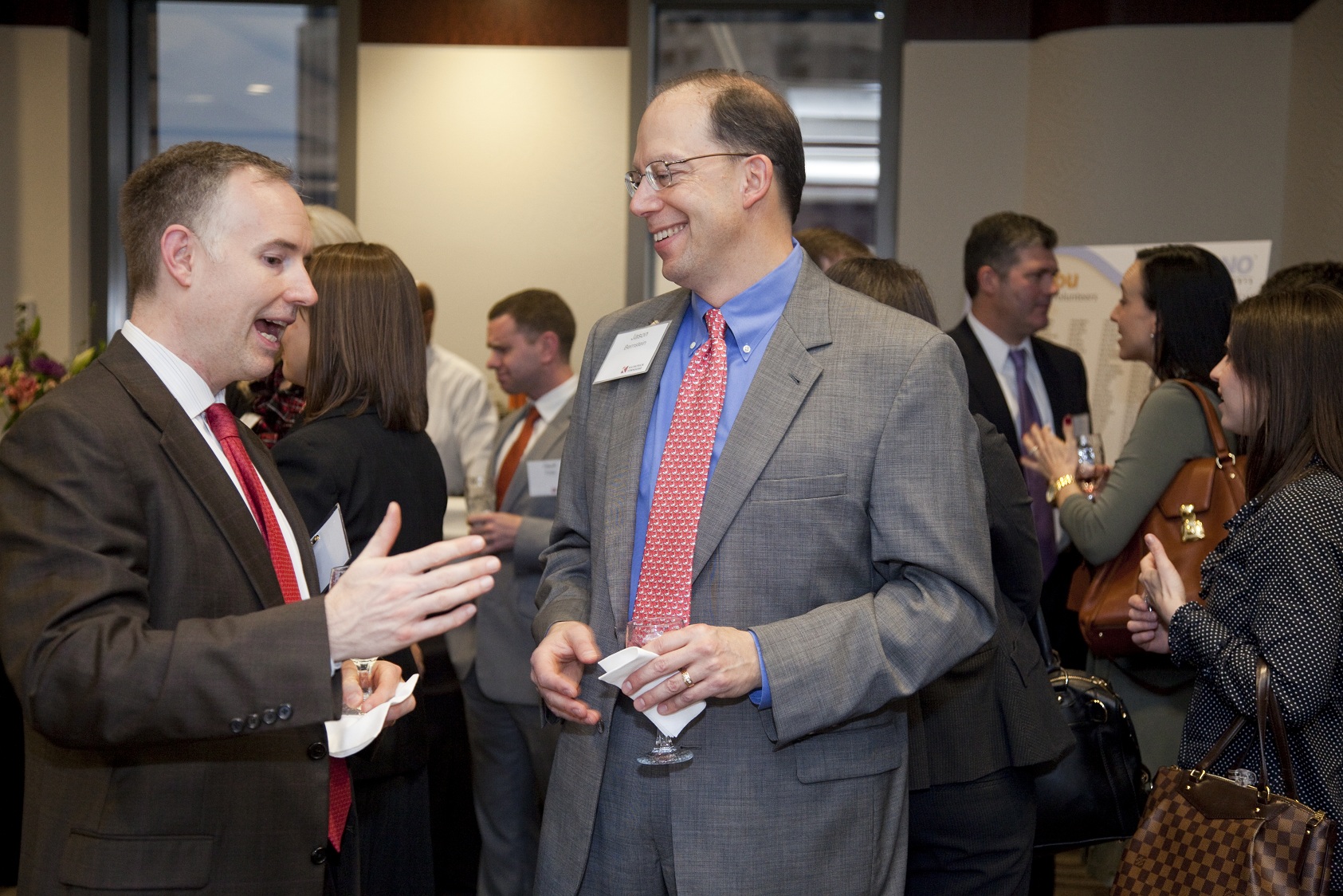 L-R: Reggie O'Shields and Jason BernsteinPlease see pictures of the reception here.
To celebrate another successful year, Pro Bono Partnership of Atlanta held its eighth annual appreciation reception for donors and volunteers. Over 100 attorneys gathered at Kilpatrick Townsend & Stockton on January 29, 2013 to recognize the incredible work accomplished by PBPA volunteers this past year.
After PBPA clients Michael Kimsey of Resource Service Ministries and Christina Guillen of Jeryme Brown & Mitchell Smalls Foundation spoke about the importance of Pro Bono Partnership of Atlanta to their organizations and the nonprofit community, Executive Director Rachel Epps Spears thanked all of the volunteer attorneys who contributed free legal services valued at over $2.3 million to nonprofit organizations in 2012. PBPA Board Vice Chair Betsy Griswold of the UPS Legal Department handed out Frabel glass peach sculptures to the following attorneys, law firms and corporations in recognition for outstanding volunteer achievement:
Turner Broadcasting System, Corporation of the Year
Alston & Bird, Law Firm of the Year
Volunteers of the Year:
Stephanie Aferiat of Home Depot
George Sewell of Polysius
Brian Galison of Nelson Mullins
Jason Bernstein of Barnes & Thornburg
Meg Kochuba, Katie Manley, and Bryan Stillwagon of Paul Hastings
Radha Manthe of King & Spalding
Cyndi Steinmetz

Pro Bono Partnership of Atlanta also gave a special appreciation award to the State Bar of Georgia Corporate Counsel Law Section for their grants to PBPA over the past four years to fund special projects, including initial funding for PBPA's first staff attorney, Robyn Miller, and first paralegal, Laura Moore.
Generous contributions by the following businesses covered the expenses of the appreciation event:
Presenting Sponsor
Sustaining Sponsor
Supporting Sponsor
"Pro Bono Partnership of Atlanta would not exist without our volunteers and donors," said Spears. "This event gives us the opportunity to thank them and to highlight the extraordinary work of some of our outstanding volunteers."