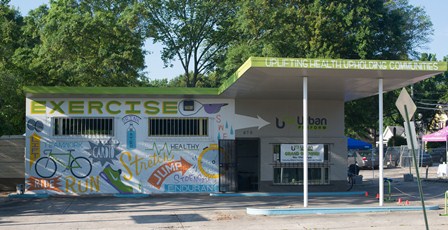 Urban Perform Building
It's no secret that physical inactivity can lead to an array of health problems – diabetes, high blood pressure, heart disease, and even certain types of cancer to name but a few. Residents of low income neighborhoods are often most at risk. Here, high crime rates deter many residents from exercising outdoors, and indoor gyms are often too far away or require exorbitant membership fees. So what are residents of such communities to do? That's where Urban Perform (UP) comes in. UP is a non-profit gym, whose mission is to make fitness both accessible and affordable to the underserved communities of English Avenue, Vine City and Washington Park in Atlanta.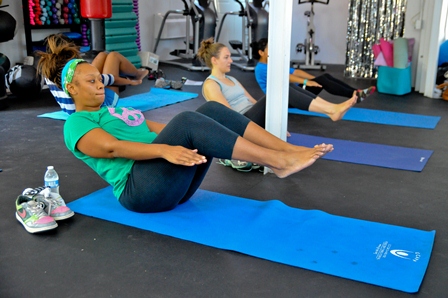 Local residents take advantage of Urban Perform's programs.
Founded in 2012, the organization began by serving approximately 100 youths through an after-school program run in a church warehouse. In 2014, UP received a three year grant from the Arthur M. Blank Foundation, allowing it to renovate an old gas station and create its own space in Vine City. UP now serves as a full service fitness facility, the only one of its kind in the area. Its previously boarded up two-story building is now vibrant, with a crouching pink tiger mural painted on the outside, and the inside packed with treadmills, elliptical machines, weights, and a whole host of other exercise equipment. UP also runs up to four adult fitness classes per day ranging from circuit training and kickboxing, to Zumba, Pilates, and Yoga. Youths can use the gym for free and for adults the charge is just $2 per visit, with even cheaper monthly payment options available.
Unsurprisingly, memberships have been growing with over 1000 local residents benefiting from UP's services last year alone. To these residents, UP has become more than just a safe place to work out; it is also a symbol of community, hope, and pride. As one member explained, "In most communities where you have high poverty rates, the very last thing you see is a gym. Having Urban Perform in our community is a surprise to outsiders and something you would never expect. It has improved the area. It is something that we needed."
Pro Bono Partnership of Atlanta (PBPA) is proud to have been working with UP since January 2014. Most recently, Sharon Lewonski, a volunteer attorney from Culhane Meadows PLLC, worked tirelessly for over a year to secure a special use permit for the organization. Without the permit, UP was in real danger of being forced to close its doors. Other attorneys who have graciously offered their services include William Rothschild, Pauline Smith, Scott Wright, and David Zimmerman from Sutherland, Jason Cummings from Morris, Manning & Martin, Jason Howard from Alston & Bird, Michelle Johnson from Nelson Mullins, Maritza Knight Winfunke from Kilpatrick Townsend, Eric Magnus from Jackson Lewis, Joshua Richey from Bryan Cave, Toronda Silas from Cox Communications, and David Sirna from GE Power & Water. These attorneys have assisted the organization on such matters as drafting contracts for fitness instructors, revising bylaws, and reviewing its employee manual. When asked to describe the impact PBPA has had on the organization, its founder Laura Pritchard-Compton explained, "Pro Bono Partnership has helped us with a ton of projects. The truth is that we wouldn't be alive without all of the work that they have done for us."