Imagine sending your child to a school with a student teacher ratio of 6:1, where students from all socioeconomic backgrounds are excelling, and are well above the national average in every subject, and to top it all off, the school is free. While that may sound too good to be true, it isn't. Thanks to the work of Dean Leeper, the founding principal of the Kindezi School, several Atlanta families have chosen the charter school for their child.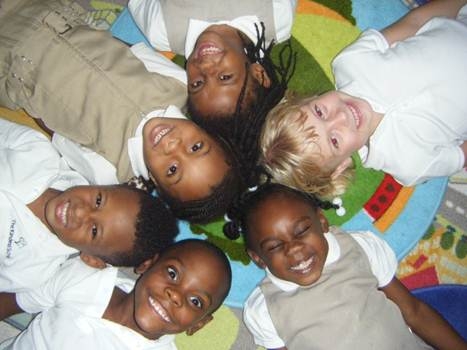 Kindezi School Students
Unfortunately, not every family can enroll their children. In fact, the waitlist for Kindezi School, which currently offers grades K through three, is over 300 kids. In order for a child to be admitted to study at the Kindezi School- he or she must win the lottery—literally.
The reason behind the demand is simple: the school has adopted a Differentiated Learning Plan for every student. Teachers spend hours of daily one-on-one time with students in order to determine how each child learns most effectively and adjust the curriculum accordingly.
"Some students need a lot of love and discipline. We can give them that support," noted Leeper.
The Kindezi School puts an emphasis on both the arts and leadership. Teachers integrate the arts into math, social studies, science, and language arts. The school believes that this integration facilitates a deeper and more engaged learning experience. Further, the school focuses on teaching students to examine the importance of leadership and service inside the classroom, in their local community, and as global citizens.
Pro Bono Partnership of Atlanta has matched the Kindezi School with several volunteer attorneys. For example, Joey Silver of DLA Piper assisted with the incorporation process and Happy Perkins and Jules Frauenhofer of GE Energy, along with several King & Spalding attorneys, handled the 501(c)(3) application process. Katie Manley and Windsor Adams of Paul Hastings advised the school on labor and employment issues and Jeremy Hilsman of Kilpatrick Townsend is currently providing assistance reviewing a lease.