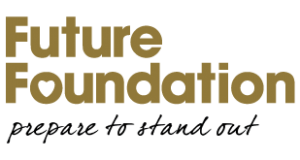 Future Foundation, a youth development center for middle and high school students in the East Point and College Park areas of Metro Atlanta, serves a left out population in an underserved area. The area's high poverty rate (24% for South Fulton County in 2010) negatively impacts graduation and college entry rates. Future Foundation helps to empower students and their families with life skills, education programs, and supportive networks to help them take the hard steps up and out of the poverty cycle.
Future Foundation's five-point wrap around strategy incorporates academic enrichment, life skills, health, relationships, and family support. With all five areas working together, the five point approach provides intense, comprehensive support committed to getting participants graduated from high school and into post-secondary education. And the strategy works- between 2007 and 2013 Future Foundation students had a 100% highschool graduation rate and a 100% post-secondary education entrance rate.
Future Foundation has been a client of Pro Bono Partnership of Atlanta for five years and in that time Pro Bono Partnership of Atlanta volunteers have helped Future Foundation on 25 matters. According to Future Foundation Executive Director Qaadariah Abdur-Rahim, Pro Bono Partnership of Atlanta provides high quality expert advice to help advance the organization's mission. Recently, Future Foundation was working on rebranding and looking into trademarking. Just one phone conversation with a Pro Bono Partnership of Atlanta volunteer attorney helped them consider and decrease risk that Future Foundation hadn't even thought of! Thanks to Tracy Marion of Smith Moore Leatherwood, Brent Houk of UPS, Ashley Kirkman of Alston and Bird, Andrew Strickman of Finnegan, Kristen Beystehner of Mckenna Long, and Shannon Cox and Steve Cummings of King & Spalding, and many others for volunteering their time to assist Future Foundation.