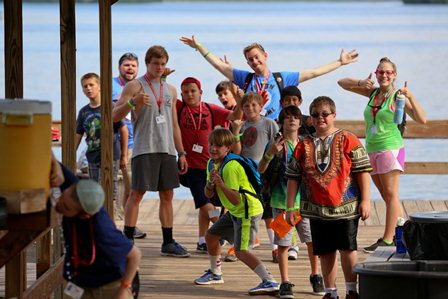 Kids with Tourette Syndrome often stand out, and not necessarily in ways that they would like. Their uncontrollable tics, which may include movements like head jerking or sounds such as grunting, bring unwanted attention at school, activities and other public places.
But for the kids at Camp Twitch and Shout, their tics just make them one of the crowd. Camp Twitch and Shout is a one week overnight camp for children 8 to 17 years of age who have been diagnosed with Tourette Syndrome. It is organized and managed by Tourette Information Center & Support Of Georgia, Inc. (T.I.C.S. of Georgia), in partnership with Camp Twin Lakes, and is located at Camp Will-A-Way in Winder, Georgia.
Camp Twitch and Shout campers, who come from all over the United States, engage in activities and challenges focused on helping the campers to overcome obstacles and grow in their confidence and capabilities. Campers describe it as the one place, once a year, where they can really be themselves.
Life with Tourette Syndrome can be very difficult for children and their families. Among children diagnosed with Tourette Syndrome, 86% also have been diagnosed with at least one additional mental health, behavioral, or developmental condition, such as ADHD, anxiety or obsessive-compulsive disorder. Camp Twitch and Shout counselors and staff are trained to work with kids with Tourette Syndome (many counselors themselves have the syndrome) so that campers can focus on connecting with others with Tourette Syndrome and engage in new activities in a supportive environment.
T.I.C.S. of Georgia has been a Pro Bono Partnership of Atlanta client since 2009. Volunteer attorneys including Pete Duitsman, Bob Brennan, Meredith Silliman, Michelle Johnson, Rusty Close, Ellen Padesky Maturen, Melissa Hernandez and Luanna Petti have recently assisted T.I.C.S. of Georgia with matters ranging from registering trademarks to reviewing location agreements to drafting counselor handbooks.
Tricia Kardon, Camp Administrator & Nursing Coordinator for T.I.C.S. of Georgia, said of Pro Bono Partnership of Atlanta: "The support that Pro Bono Partnership of Atlanta has given our organization over the last few years has enabled us to create a healthier organization and a safer environment for our campers and staff, and has encouraged us to set high standards in order to provide quality programming. Our children with Tourette Syndrome have such a difficult time throughout the year as they live with a disorder that is so misunderstood by so many in society. The week at Camp Twitch and Shout is for many of them the only week all year that they feel safe, supported, and understood. One camper told us that he wakes up every morning happier knowing that it is one day closer to coming to Camp Twitch and Shout. We could not afford the valuable help and support of Pro Bono Partnership of Atlanta. Thank you so much to everyone that has shared time and expertise to help our one week at camp change the lives of so many."
For more information on Tourette Syndrome and Camp Twitch and Shout, watch this amazing video from Dateline Australia: https://www.sbs.com.au/ondemand/video/43617347539/twitch-and-shout.