Pro Bono Partnership of Atlanta proudly welcomes four new Board members:
Kathleen Bardell, General Counsel for Power Generation Services at GE Energy;
Jared Brandman, Securities Counsel for the Office of the Secretary at The Coca-Cola Company;
Brent Houk, Labor & Employment Counsel for United Parcel Service; and
Tricia Kinney, Senior Counsel of Litigation for Kimberly-Clark Corporation.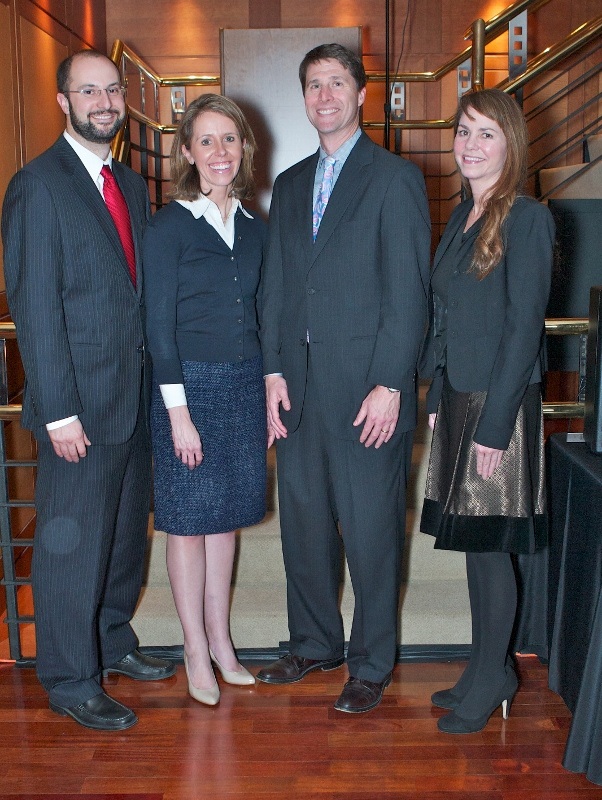 New PBPA Board Members (L-R: Jared Brandman,
Tricia Kinney, Brent Houk and Kathleen Bardell)
Kathleen Bardell joined GE in 2006 from Cozen O'Connor. Pro bono work has been one of Kathleen's priorities since she attended law school. She leads the Street Law pro bono program at GE and has participated in Pro Bono Partnership of Atlanta's Nonprofit Legal Check Up Program. Kathleen and her husband have two children, ages 10 and 9. She enjoys spending time with her family, golfing, scuba diving and skiing.
Jared Brandman, joined The Coca-Cola Company in 2010 after spending five years at Paul Hastings. Jared, whose commitment to helping nonprofit organizations through the Partnership dates back to 2006, notes: "I am not only privileged to meet so many amazing men and women that provide such valuable services, goods and support to people in need, but also to help ensure that these charitable organizations are appropriately structured and benefit from best practice corporate governance policies and procedures." Jared has two children and enjoys helping his wife in her new business, EnchantedKidz, which offers dress-up clothes for kids.
Brent Houk has over 20 years of labor & employment law experience. Prior to joining UPS in 2005, he worked as Assistant General Counsel for Overnite Transportation. His volunteer involvement with the Partnership has ranged from helping nonprofit organizations comply with the proper classification of independent contractors and employees to drafting and implementing employee handbooks. "Ethical considerations requiring us not to take on work we are not competent to perform make us wary," Brent notes. "This is where Pro Bono Partnership of Atlanta makes the difference, for many of us, between our wishing we had the tools to participate and our actual participation." Brent dedicates much of his time outside of work to coaching youth baseball and basketball teams.
Tricia Kinney, who joined Kimberly-Clark in 2007, spent ten years in the Labor and Employment group at Powell Goldstein (now Bryan Cave). At Kimberly-Clark, she focuses on complex business, products liability, personal injury and employment litigation. Tricia has served as a board member of the Sports Network Corporate Board for Children's Healthcare of Atlanta (CHOA), and on the Advisory Committee for the Atlanta Legal Aid Society. "Through both of these organizations, I have seen the amazing and direct impact that pro bono assistance and community involvement have on people's lives, at particularly vulnerable times, when often a little bit of assistance makes a truly critical difference." Tricia is a mother of three and in her free time she enjoys playing with her children and running.