Pro Bono Partnership of Atlanta recently announced the appointment of Amy Dosik to its Board of Directors.
Amy began serving nonprofits as a tax associate at Sutherland LLP and currently serves as a Principal in Ernst & Young's National Exempt Organizations Tax Practice. When Pro Bono Partnership was formed, Amy was excited by the organization's ability to provide pro bono opportunities for transactional attorneys.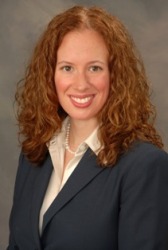 Amy Dosik
Initially, Amy volunteered to perform client workshops and various tax-exempt related seminars for Pro Bono Partnership.
She learned early that she wanted to dedicate her practice to helping nonprofits. Amy views her volunteer work for Pro Bono Partnership not as answering legal questions, but as a way to help nonprofits fulfill their mission. Amy feels that Pro Bono Partnership fills a much needed niche for small nonprofits that don't have the resources to hire paid advisors without compromising their financial ability to deliver program services.
"It is a really good counterpoint to what I do professionally," Amy said. "My clients are generally large hospitals and universities who have the resources to hire paid tax consultants and attorneys. Without the volunteer work of skilled attorneys, most nonprofits would simply not have the financial ability to receive the legal and tax advice that they need to move forward."
On top of her work at Pro Bono Partnership, Amy serves on the board of It's the Journey, which runs the Atlanta 2-Day Walk for Breast Cancer, and Hillels of Georgia.
"I love working with nonprofits because it involves interesting, complex issues, and at the end of the day I know my clients are working to make Atlanta and the world a better place. It allows you to sleep well at night."